Alexandra Kalle
fragrance developer
Germany
'4711', the centuries-old 'Echt koelnisch Wasser' ('Real Cologne Water' so its subtitle). 'Tabac Original', one of the world's first fragrances for men. 'Tosca', which is one of the most traditional fragrance brands in Germany and was launched in 1921 - at the same time as 'Chanel No. 5': three famous products manufactured by "Maeurer & Wirtz" and exported to 140 countries. At the 'House Of Perfumes' (company slogan) based near Aachen/Germany, perfumer Alexandra Kalle is Head of Fragrance Development.
Alexandra Kalle
fragrance developer
Germany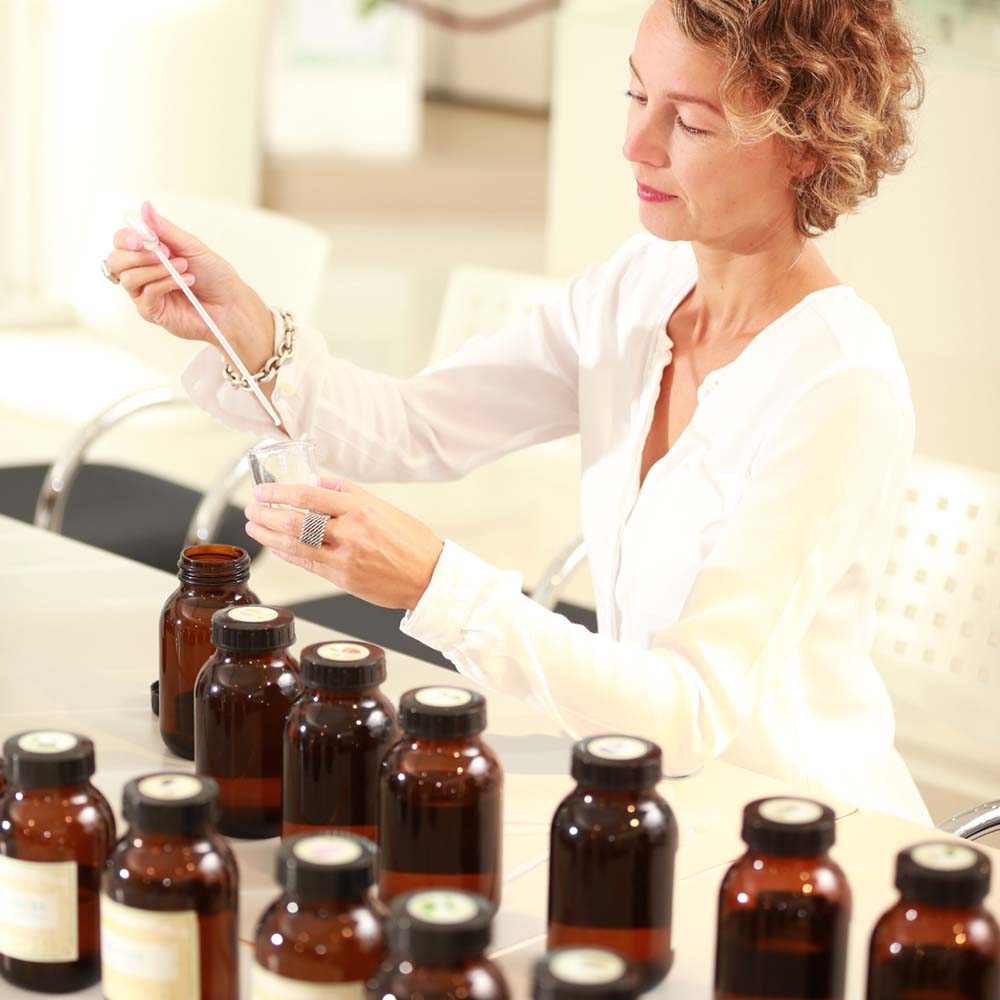 Alexandra Kalle (* 4 April 1970, Paderborn) first discovered the fascinating world of perfumes via a few detours: as an international business economist, the daughter of a commercial employee and a businessman previously gained many years of marketing experience in international companies (Coca-Cola, Johnson & Johnson, More & More Fashion).
It was always important for her to deal professionally with consumer goods that belong to the lifestyle, cosmetics or fashion world, in short: things that beautify the world. This preference is also reflected in the fact that the hobby photographer/cook has an affinity for plant and flower decoration in her private life and enjoys designing jewellery herself. However, her passion and talent for creating fragrances were first discovered during a job interview at a large fragrance and flavour manufacturer. In the Swiss company Firmenich, she was trained by perfumers within two and a half years. In the meantime, the fragrance expert is head of the corresponding research and development department at Maeurer & Wirtz.
It is her job to develop ideas that keep the company on course for the future. In close coordination with Marketing, new fragrance themes are developed for the product portfolio. This also means observing trends and capturing these moods in a new fragrance creation. The transfer from the idea of a concept to the finished fragrance in the bottle requires a lot of tact and commitment. "Fragrance" means something different to everyone, but above all, people perceive fragrances very differently. Consequently, terms like "right" or "wrong", "good" or "bad" are virtually forbidden when describing them. This subjectivity naturally makes it difficult to judge fragrances in general. But it is precisely this problem that constantly brings new, interesting facets to the task.
Alexandra Kalle lives in Cologne (Germany) where "the scent-museum" is located too (for informations see farina.org).
Interview October 2015
Sense and sensibility: to beautify the world!
"A special idea, a composition, succeeds best in perfumery when one's own thoughts, worries, have no room and stand still in the moment of sniffing, of evaluating the scent. For the interplay of fragrance molecules, in harmony or disharmony, in chords that bring out multi-layered facets and that, like an opera in three parts, go through a dramatic development, I need silence in my head, a kind of emptiness or neutrality. Otherwise, smelling does not succeed. Only then is access to the emotions open. Therefore, I pull myself out of the mundane for this and create an atmosphere for myself that allows me access to thinking, feeling and creating differently.
My creativity is stimulated when I feel good - in certain places, engage with people, activities, things that bring me joy such as photography, visiting exhibitions, listening to music or I do things that are beautiful and fulfilling. It's not about the big WOW experiences. Even a sunrise in the morning on the way to work can be very inspiring and result in creativity. The energy of the heart is elementary; for me it is a good barometer of mood, a sign of vitality. It makes the soul vibrate, awakens what is often slumbering in the subconscious. I feel particularly kissed by the muse during olfactory (the sense of smell) forays through nature - the nose often finds its way faster than the eye. Flowers in any form - sometimes just visually because of their graceful, colourful and shapely beauty, but of course preferably fragrant - stimulate my creativity immensely. They also make me happy.
What happens in the run-up to creation can sometimes also be linked to sad events. Since the world of fragrances - that is, perfumes that underline the personality of the wearer - usually touches the heart in a positive way, positive images or even emptiness also support me to create. A creative virginal openness, this is the optimal starting point.
The least inspiring place is the office. Because I spend some time there during the day, the exchange with colleagues and the daily evaluations through smelling help me. Conscious sniffing brings everyday thoughts to a halt and activates creative impulses, enables entry into the emotional world.
The world of scent lives from longings, emotions, moods. The desire for freedom, to be seen, to be special, for temptation, seduction and lightness - the motivation is complex and everything is stored, anchored in the emotional part of the memory. Scent molecules instantly reawaken longings, satisfy them, conjure up a smile on the face or cast a spell over other people.
Sometimes, however, I need this calm and detachment from abundance, stimuli and general input in order to feel again - away from functioning or working towards creating. However, deadline pressure can also be contagious and awaken forces that I might not have expected. Nonetheless, I always need a balance, because one thing causes another - just like in life.
Sometimes, in the midst of the hustle and bustle, like a small flash of light, something opens up - for example, during a walk, often while consciously listening to music and in places whose smells fascinate me. Scent molecules enter the nose before the eye can even see the origin of the stimulus. That is great. So the olfactory channel is particularly attentive. The mental cinema begins and the imagination is immediately awakened. This holds surprises, sets things in motion.
Individual ideas thought with the heart are so deeply anchored that there is no need for real sketches. Just the feeling of it makes everything come alive/present in one fell swoop and the idea possibly gets additional supplementary attributes that are even more fitting, more contemporary, more innovative in the here and now; possibly they are only in the right place at the right time in retrospect. Sometimes the time was not yet ripe and the wonderful creation would not have had its appearance, its success, to be able to present its uniqueness in all its depth, because the audience did not yet have an eye for it.
It is magical for me to be creatively active because I find it so incredibly fascinating to immerse myself in the world of fragrances and thereby be able to penetrate from the surface into deeper, emotional realms. Fragrances are like an accessory that underlines our outfit on the one hand and our personality on the other, true to the thought: 'Who do we want to be today? It's wonderful to have a say in this. Imagination and, at times, boundless openness begins in the creative process. It then opens its blossom when the wearer wraps himself in the fragrance and thereby also immerses himself in his own fantasy world. This can be completely different from that of the creator. However, this is what makes the intangible, slightly fleeting world of fragrance so exciting and complex at the same time. It opens up very special moments for which words are occasionally lacking. Then body language and the world of emotions take over. Scents and aromas are very subjective. They trigger different images and associations in each person. Nothing is really predictable, determinable. It simply arises and develops - just like the fragrance itself, and differently on every skin.
When things are going well with my creativity, I am in a sensory frenzy. Sounds, aromas, colours, words, landscapes, places, fragrances bubble out of me and want to be perceived or absorbed almost simultaneously. However, creativity does not work like an assembly line, because it cannot be called up at the push of a button. It needs time, space and leisure to unfold. Routine can therefore be paralysing.
Several factors often play a role in separating the wheat from the chaff when it comes to ideas. Creative ideas and commercial, quick success do not have to contradict each other. What sometimes seems rather banal or simple to the creative artist can bring great, unique moments to a customer as the fragrance wearer. Inspirations can be ahead of their time, fulfil only the creative artist and possibly hardly meet with interested parties, i.e. buyers, but nevertheless be launched. It is quite possible that they will only find their lovers after years and become commercially successful. But this time is not always given. Nevertheless, I believe that passion and heart and soul that go into a product are definitely noticeable. Small hidden details, a play with words; a fragrance that glides gently along and wraps the wearer in a mysterious garment; fragrance molecules that tell stories, revealing new facets every now and then.
Mastering the craft is essential to being able to turn creative ideas into reality. Sometimes it takes two people to do this - one who is bursting with creativity, passionately spinning a network of ideas, possibilities, facets and permanently pushing them forward, and another who is technically capable of bringing these things to life. The development of a perfume is comparable to conducting an orchestra. The conductor does not have to be able to play all the instruments himself. With his ear, his feeling, his experience, he directs the cues, the volume, the totality of the musicians. A perfume creation also needs a scent conductor - a scent developer who, for example, evaluates the top note and would like to sniff it a little more tangy, more present and "louder"; if the base note lacks a little richness, this could be remedied, for example, by intensifying the tonka bean. Only when the desired course of the composition in its different stages (in opera the three acts, in fragrance the course of a top, heart and base note or even a linear course of fragrance) is coherent, can the development be completed.
Intuition can give clues as to whether a creative, successful conception/product launch, a fragrance can emerge from an inspiration and whether now is the right time to do or implement something. Inspirations can arise both before and after intuition. In the creative process, they are sometimes not really separable from each other. The boundaries are fluid. When everything is in flow, the energies merge. It almost seems as if everything happens by itself - almost without pressure and stress, just with ease.
Perfectly imperfect appeals to me. Rounded and apparently beautiful can quickly become very boring. Discovering little nooks and crannies, on the other hand, radiates character and personality. A garment should fit perfectly and not wrinkle; it may nevertheless show seams openly, because as a design element they make imperfections perfectly different, similar to a fragrance. It may not be pleasing at first sniff, but on the second or third breath, the nose catches a molecule that triggers delight, arouses surprise and curiosity. If it has been created so perfectly, it is certainly filled with soul and radiance. But what is perfect? That is in the eye of the beholder, because nothing is as subjective and personal as the perception of fragrances.
Most of the time, creativity is fun for me. Tears only come when creativity is torn apart, can no longer flow, is talked to pieces. Then a boost of motivation is needed, which in turn can ignite creativity. It is always sweaty. Endorphins are released, the heart beats faster, so that everything runs at full speed.
Being creative solo or in a team is type-dependent. I love the exchange. It shows up for me in different ways. Just listening to and observing people in a café triggers creative thought clouds for me. In this respect, it is a mixture of small moments and direct human dialogue for me. I would like to symbolise this as follows: Being alone in an exhibition with photos, pictures, with a good book. A movie in the cinema also inspires me. Music, vibrations, one word follows the other. Words form sentences. A winged wave arises and, poof! something great comes into being, an idea that takes on a soul - this energy is almost physically perceptible - filled with warmth that slowly rises, towards a stronger heartbeat. Enthusiasm and devotion with all the senses. As quickly as the body already shows reactions, the head sometimes doesn't keep up. But working in a team is also motivating. Different approaches offer an exciting playground and stimulate new directions or further construct one's own.
For creativity, both the experience of age and the freshness of youth are important and equally good. The interplay of both is optimal. How the young can learn from the old and vice versa depends on cross-fertilisation or inspiration. Sometimes it already helps if older people remain young in mind and heart - always be curious, never be satisfied with what is, but be accessible and have the willingness to always go new ways, to literally turn oneself upside down to look at the world from a different perspective. This is possible at any age - as long as we are at least open to change, to transformation. This openness does not only refer to age, but also to social, cultural aspects. Especially in the world of fragrances, it is substantial to keep this in mind: The favourite fragrances of French women do not necessarily correspond to the tastes of German women, let alone those of Asian women. Thus, it is important to be in exchange and or also to work with empirical values.
What remains in the end is decided by a committee of marketing people, licence partners, managing directors internally and of course externally by the trade and, not to forget, the consumer. It's nice to be part of the creation: The bottle content (the fragrance is certainly an essential and, above all, sustainable component that primarily determines sales success), but also the outer shell, the flacon, the packaging becomes reality through a lot of creative energy. Therefore, the interaction of all elements is essential. It can happen that not much remains of one's own idea - but it is important that the overall work is convincing and coherent.
If a product is to achieve commercial success as quickly as possible, it is of great relevance to anticipate what might be in demand. Commerce and a feel for the market then account for at least seventy percent, creativity takes a subordinate role here - at least creativity for innovative and novel fragrance compositions. The rest is intellect.
For projects, for example in the prestige segment or niche market, where a smaller target group is addressed, but which expects very innovative and different fragrance compositions, the ratio is certainly somewhat different.
For timely success, it is helpful to know the needs and wishes of the audience, the consumers. Social developments as well as individual desires of different people play a role - all factors that should be considered in the conception of a new perfume. The time, the place, the country of a new launch is not without significance either. Experience values can be an orientation, but still do not necessarily guarantee great success.
Growth is only possible through constructive criticism. Only in this way can new thinking takes place and diffeent ideas can be devolped! The view then also goes to the left and right again; an opening with all senses and thoughts can only happen again afterwards."
MY FAVORITE WORK
"I take great pleasure in developing novel, fresh, invigorating fragrances for Acqua Colonia - a fragrance line that is inspired by nature and has a perfumist ambition. I find inspiration, ideas for these products in nature, on journeys and during culinary excursions - always when ingredients that seem unusual are combined and suddenly offer novel sensory effects. In particular, contrasts such as sweet and salty, fruity/slightly sweet and spicy hold multifaceted chords. They tell exciting stories that enliven the nose and, above all, our mood."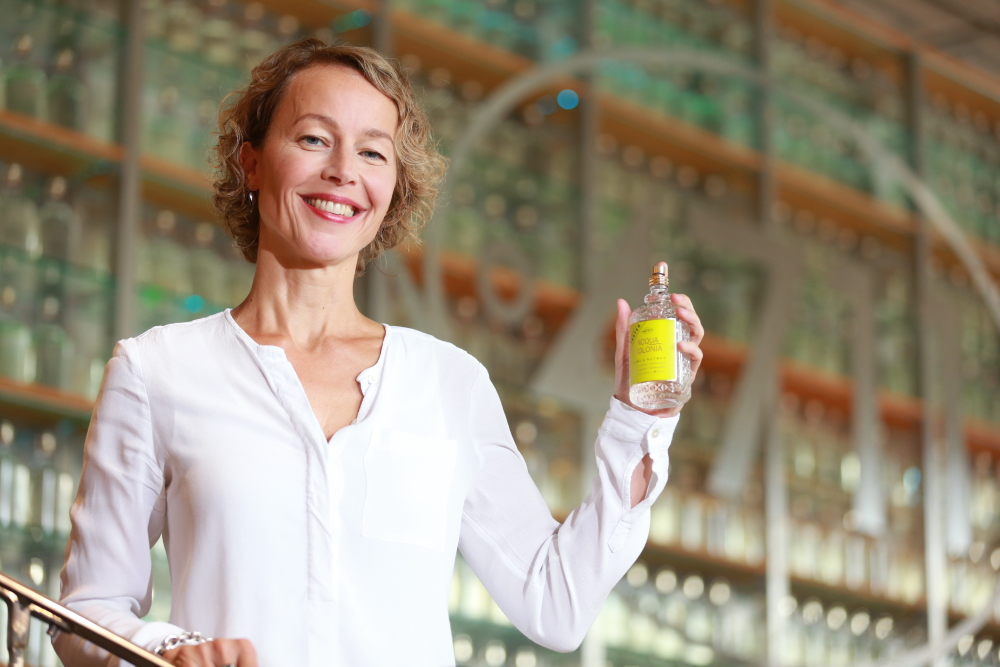 You like(d) what's offered here? Please show your appreciation by donating to one of the recommended charities.
Donate now