History
The origin of divine-spark.net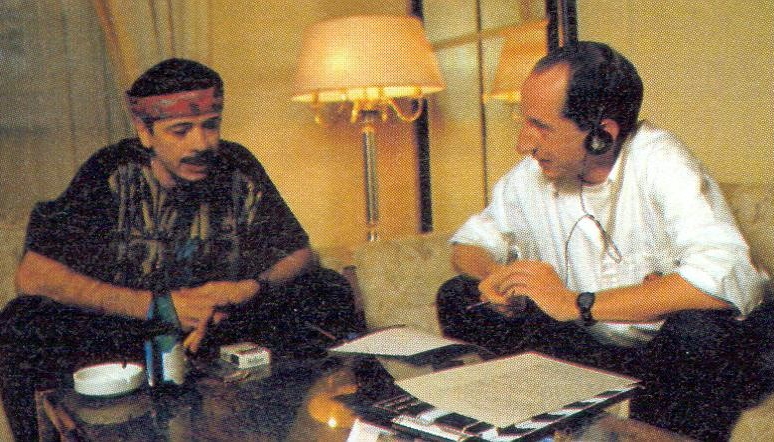 May, 11th, 1992: Carlos Santana's statement was the inspiration
"Just as birds need wings to fly, people need inspiration to live. When I make music, it is more than the pure interpretation of a song. 90 percent is inspiration, grace and feeling, supplemented by ten percent playing technique. In the absence of inspiration, the result would only be fast food music - something without heart, made solely from a commercial point of view. An important prerequisite: You first have to learn a craft perfectly in order to be able to break with its laws and develop your own style. After all, freedom has its origin in discipline! When composing, by the way, I myself am only the means to an end, namely to make something audible. The spiritual window through which the inspiration flows is only temporarily open. So it's a matter of using the favour of the hour, because as soon as this source dries up again, it's over." Carlos Santana surprised me with these words during an interview on May 11th, 1992 in Munich. The esoteric enlightened digression of the guitarist/composer was something special in the dialogue with the worldwide celebrated US-American of Mexican descent. The legendary Latin rocker (hits: "Smooth", "Maria Maria") temporarily left the usual promotion for his studio album "Milagro" and began to philosophise instead.
November 2014: work on "my inspiration"-book began
Santana's statement has stayed with me for decades. But it took up until November 2014 for a concrete idea to emerge from his quotes. How about compiling a book about creativity, because my research resulted in the understanding that there didn't seem to be anything comprehensive on the topic of 'inspiration & co.' - at least not in the form of living representatives of relevant creative professions taking a stand themselves? Before I started working on it, I contacted a successful literary agent for an evaluation of the interest among major publishers and the possible commercial chances for such a project. She said: "Forget about it. That topic doesn't interest no one!" Her assessment surprised me for a moment, but couldn't neither turn down my motivation nor keep me from realising my plan. Maybe I'll need patience and a long breath to break through, but a man gotta do what a man gotta do. My anthology should focus finally exclusively on contemporary creatives who reveal, among other things, in detail what exactly inspires them to create. In this context, a quote by the philosopher Ludwig Wittgenstein fits: "I actually think with my pen, for my head often knows nothing of what my hand writes."
Literally nothing ever leaks out about the roots of the actual creative process and those significant creative ideas that the German neurologist Professor Dr. Hannah Monyer calls "brief moments of eternity": But how do creative people experience intuition, which according to the subtitle of a non-fiction book by the German psychologist and founder of "Simply Rational - The Institute for Decision", Professor Dr. Gerd Gigerenzer, is "The Intelligence of the Unconscious"? What is the individual expression of "BLiNK! The Power of the Moment" (book of the same name by the US science journalist Malcolm Gladwell)? What triggers inspiration in people, that force that provides the unexpected impulses for ideas that become the starting point of their creativity? Can these ideas that fire their imagination be located in the here and now;? What does the subsequent transformation of a vision into a real existing creation look like? And when is a work really finished at all or are there even infinite possibilities for development? The latter is vividly shown in the unforgettable documentary film "Le mystère Picasso" (1956). According to the French director ("The Wages of Fear") Henri-Georges Clouzot's work "captures the moment and the mystery of creative work".
2015/2016: 300 VIPs on the interview-wish-list
A wish list with the names of world-famous creatives was quickly compiled, initially comprising 80 and in the end a good 300 entries. My expectation that an interview request of rather unusual content would meet with a positive response was quickly followed by disillusionment: the majority of the addressees identified in painstaking research - regardless of whether they were managements, agents or PR agencies - did not respond at all. Not least because of this, the acquisition of potential candidates turned out to be difficult and protracted, so that the project soon resembled more of a Herculean task according to the try & error principle. At our meeting, participant Demis Volpi gave me a plausible reason why navel-gazing about one's own success and its factors might have been a challenge that some people preferred not to face. The award-winning Argentinian choreographer said: "Who wants to reveal the highly personal, confidential and secret instruments of their individual work, to talk about it from the inside?" Nevertheless: Acceptances trickled in in small steps, resulting in an interesting, diverse get-together with a whole range of well-known creative celebrities. Finally I had interviewed 31 top-creatives. Then I looked for a designer to start working on the book and obtain offers from printers. In parallel I founded my own publishing company, signed contracts with book distributors and then the anthology was printed.
October 2016: anthology "my inspiration" was published
The cover of the book shows these infos: Thomas Hammerl: "my inspiration" (31 top-creatives reveal their insights on intuition, inspiration, creativity, flops and success).

On the book's backside the following text is to be read: "Rockin' All Over The World": Status Quo, the British boogie rock hit machine. The innovative stylist avant-garde of headline-grabbing fashion creations for world famous singer/actress Lady Gaga. The fantasy epic "Game Of Thrones" celebrated by millions of TV viewers. Cartoon character Garfield. Pink Floyd's "The Dark Side Of The Moon"-album-cover. The person responsible for "4711", first/oldest Eau de Cologne worldwide as well as - in contrast - a molecular perfumer. The animated film "Shaun the Sheep". The photos of Marlboro's international advertising campaign with cowboys. The comic strip "The Walking Dead". The Seville landmark, the world's largest wooden structure. Groundbreaking designs. Futuristic inventions from high-tech science. Different works, one thing in common: cross-border acclaim, great renown for the "creators".

But before realisation, there is always the vision. What was the intuition for this? Where did the inspiration for the idea come from? And how is success or failure dealt with? Journalist Thomas Hammerl explored such questions in interviews with highly esteemed makers from contrasting genres. The producers, who are based in Europe, Asia, Australia or the USA, reveal for the first time the highly personal backgrounds of their individual creative processes and work, which has been in demand globally for years - in original quotes. The result is an unique, always fascinating and always intimate look into the psyche of creative people. Entertaining. Informative. Timeless. Enriching. Motivating.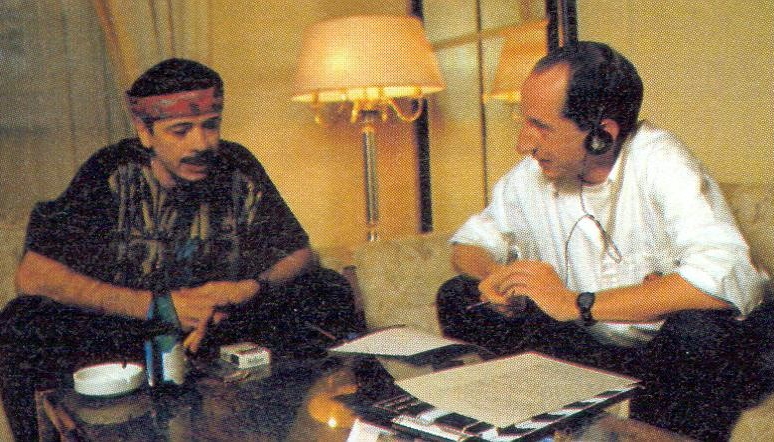 The Book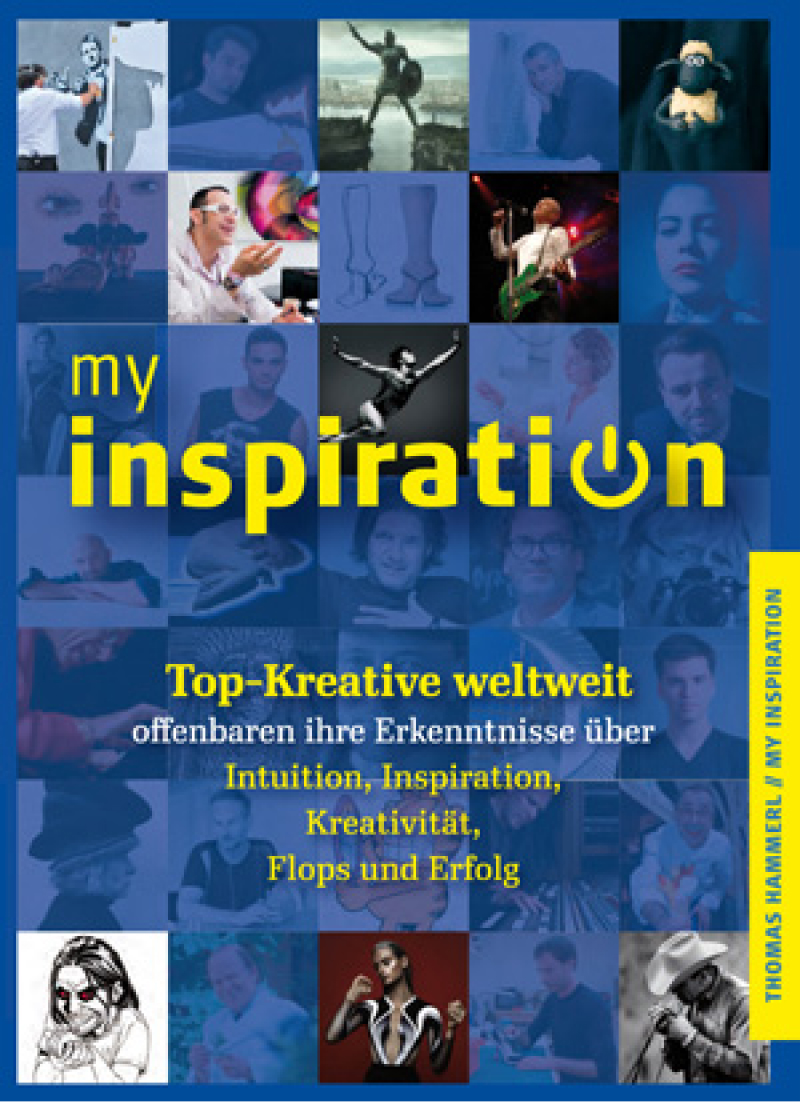 306 pages, 4c-illustrations, paperback.
Note: Available in German only!

Original selling price: € 24
Special sale price: € 12 + (international) postage according to recent price-list of Deutsche Post
Order via www.my-inspiration-book.com
Autumn 2019: anthology's concept developed into an online-site in English
The reviews that I got were very positive throughout. Motivated by this feedback, I thought about how the initial concept could be developed – in particular because time's running out steady (some of the people that I wanted to interview, had died in the meantime). With their passing, their knowledge vanished. Therefore I worked, in the years to come, on a sophisticated concept of a complex online-presence. This "virtual museum" should pay tribute to great creatives and their work including the preservation of their respective basic ingredients. This reservoir, a kind of "collective think tank", being of interest for the public, creatives of course and journalists, but futhermore to universities as an additional service for students or as a research-tool.
June 2020: attempt to export the idea of a creatives` secrets "archive"-site
A few months after the world was hit by the Corona-pandemic in March 2020, I started researching who would be interested in supporting my vision. I contacted numerous private universities in the US and introduced my concept, but got – if at all – no positive feedback. The same occured in my native country of Germany. The next idea was to get some of the top-investors interested (because the think-big-and-wide-version of the concept could be financially lucrative). Nobody shared my belief, its potential and necessity. As a result I decided to realise the "small" version of an online-presence (in multimedia-form possibly) on my own. That meant setting up this page and providing its content constantly (same procedure as in 2015/2016 – an Herculean task to separate the wheat from the chaff out of the large amount of professional creatives from lots of genres worldwide. Find the real influential, style-defining, remarkable ones or - at best - those with an unique proposition. People that deliver long-term quality. Get in contact with them at all and achieving to have the questionnaire answered finally. For whatever reason: I seem to be the only one who clearly recognises the importance and urgency that the knowledge by the great living creatives has to be kept and immortalised while time keeps on running out constantly.
May, 11th, 2022: Divine Spark was registered. Its subtitle says it all: "Insights into the minds of top creatives worldwide".
30 years after I have talked to Carlos Santana and he made that unforgettable statement, this site was registered. I`m curious how it will develop and what its future will look like. Will my idea and the faith in it excite others and make the rounds large-scale?
P.S.: It is obvious of course that just imitating the views of the creatives presented here cannot lead to similar/successful results despite the too-often quoted aphorism "good artists copy, great artists steal". Everything still depends on the individual personality and their talent/ability. But the contributions here at least give extraordinary insights into the way the creators think and see things. Therefor it should guarantee inspiration and help, because according to renowned German weekly newspaper Die Zeit: "Creativity is considered THE key competence of the 21st century"!