Andreea Braescu
Visual Interior Artist / Art Studio Designer
Romania
Winner in the category "Best Lighting" at Homes & Gardens Design Awards in London. This trophy was the well deserved merit for a visual interior artist whose bespoke organic light sculptures as well as chandeliers are extraordinary and handmade in highest quality ceramic known. Her unique artworks are described best and poetic in a story on hochedel.ch: "Delicate clouds of white leaves float through the room and fill it with their warm light. Like fairy wings, they exude a graceful lightness and joie de vivre that is otherwise only possible when experiencing nature. Deliberately placed gilding underlines the cheerful aura with romantic touches."
Andreea Braescu
Visual Interior Artist / Art Studio Designer
Romania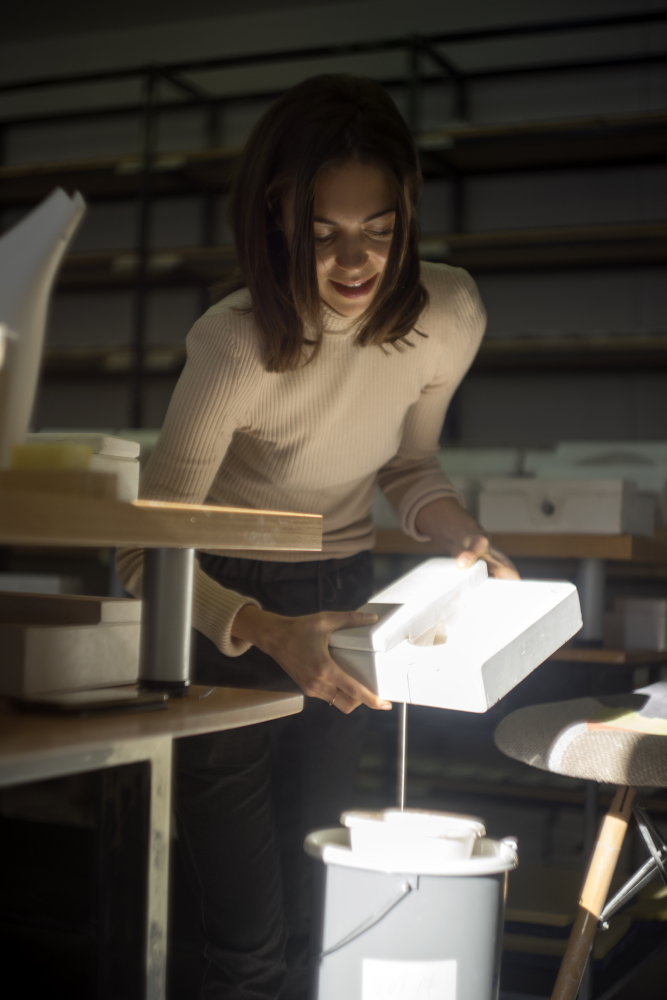 "My wish is to breathe life into interior spaces, bringing the feeling of harmony and peace that nature gives us when we are outdoors, blissful and free", Andreea Braescu is quoted on her homepage. "I am constantly inspired by the beauty and complexity of the natural world, especially the way it creates harmony through apparent randomness. Every leaf on a tree is unique, yet together they create a pattern that allows each one to capture the sunlight it needs to flourish and grow."
The native Romanian (* 30 May 1985) is a country kid for one thing and for the other was born into a family of creatives. She grew up surrounded by the arts. Both of her grandparents were painters, her mother a sculptor, and her father a designer. Andreea Braescu went on to study ceramics at Bucharest National University of Arts and spent the following six years searching "to develop my own approach with the aim of re-creating the spirit and energy of nature within interior spaces". The design of her first chandelier took her plus team three years to complete. The difficulties and the challenges were to realize her artistic emotion-driven approach with outstanding engineering, product and lighting design. Because of these experiences she has consciously erased regularities and manufacturing conformity. Instead she can rely in her Bucharest-studio on an inhouse-team of 15 people including an industrial designer, a spatial engineer with experience in aeronautics, and a number of porcelain artists, many students from a nearby university, plus her husband and parents.
"Each chandelier starts with an understanding of its surroundings, with a series of CAD drawings provided from the interior architect or designer. Next, Braescu makes sketches, then 3D models before construction begins" (galeriemagazine.com). The metallic frame is the backbone of every structure and made from the highest grade stainless steel. Each one is meticulously handcrafted, to ensure every porcelain leaf can be positioned to capture, reflect and create light in the way that best responds to the space around it. The leaves are made of the highest-quality ceramic known: fine bone porcelain, with a translucency that's unequalled. Although a notoriously difficult material, its ability to capture and reflect light with such softness and warmth is captivating. All glazing is done by hand, to make sure that every surface has a consistent gloss and shine. Once the individual parts have been cast and the hardened leaves have been shaped, they are finished and polished by hand as well as glazed. Then each porcelain leaf (some gold-plated) is fired in the company's ovens, at 1.260 celsius. This ultra-high temperature gives the unique strength and the fluid lines create a structure that is incredibly strong, yet beautifully delicate and required by the craftsmen. Because beauty, like nature, can't be rushed, it can take up to three months to complete a large piece, with over 1.000 individual elements to craft and position in meticulous detail. The challenge here is to place each leaf on the metal structure in a specific angle so it can reflect the light to another neighbour. The desired result is that all leaves should receive the light so they can be "alive".
One of her largest works up until now is a 164-foot-long installation in the hotel "Le 5 Particulier" located in a Western Parisian suburb (5 Rue Paul Déroulède 92200 Neuilly-sur-Seine - France).  "It represents the connection between the lobby to the main building", Braescu explains, "so every hotel guest will have this experience of walking through this organic channel." It's one of the few displays of her otherwordly artworks that have been featured in publications like 'ELLE Decoration' or 'Le Figaro'. The majority of her creations are custom orders for private residences like the monumental golden chandelier for a member of the royal family in Abu Dhabi.
Despite the trademark of her couture lightning objects are leaves of the ginkgo tree ("The oldest surviving species of tree known to exist... It has become a symbol of strength, hope and peace for many", gardenguides.com), Andreea Breascu has started experimenting with magnolias. Nevertheless the inspirations aside from nature in the first place will remain the same. Those she mentioned while talking to iloboyou.com: "Frank Lloyd Wright regarding the necessity of harmony between man and nature, Frank Gehry and the Japanese architect Tadao Ando, who teaches the beauty of simplicity. He intends for people to easily experience the spirit and beauty of nature through architecture."
"If you find yourself smiling while being outside on a sunny day, it's no coincidence", Andreea Braescu told shoutoutla.com. "This positive impact on our emotional health and wellbeing is what I think that lighting should bring to an interior space. Without this, interior spaces cannot be experienced to the fullest. Of course, lighting should assure a comfortable and functional atmosphere in your home, but I think it should also elevate moods and create wellbeing."
Andreea Breascu is married and a mother. She works and lives in Bucharest.
Interview July 2022
Bringing soul to interior space: emotional, elegant enlightment
INTUITION/IMAGINATION
How does intuition present itself to you – in form of a suspicious impression, a spontaneous visualisation or whatever - maybe in dreams?
The intuition is a mystery to me. I can feel it, it is a gut feeling. I know I am in contact with my intuition, and you recognise immediately when this happen, as it is the right track. How it presents itself to me? All of the above! Mainly 'spontaneous visualisation', where something appears in my head. It doesn't always come out the way I see it though!
Will any ideas be written down immediately and archived?
The ideas appear first as an image in my mind, and it is even hard to draw a sketch. This idea remains as an unsolved puzzle for months and years maybe, until I can define it in a sketch. It's like the mind keeps putting a new piece to the puzzle each day, without necessarily thinking about it, being like a program running in the background of the soft. At a certain point, I realize I have completed the puzzle.
Are great ideas based on intuition and do they reveal themselves in a kind of clear as well complete version that just has to be realized? Or is it endless trials and errors (after the first spark) that result in constant developments up until the final result?
The intuition is accessible if the sky's open for you, and you must ask for it. The intuition is like a glimpse of the truth, that just appears to you, and many times does not offer the complete solution. The trial-and-error process is happening when you try to implement this "image" into reality.
What if there is a deadline, but no intuition? Does the first fuel the latter maybe?
For the ongoing projects, the solutions are just challenges that need to be resolved. Only the existing collections can have deadlines, and this I always respect.
?: Are great ideas based on intuition or by almost endless trials and errors that result in constant developments up until the final result?
The intuition is accessible if the sky's open for you, and you must ask for it. The intuition is like a glimpse of the truth, that just appears to you, and many times does not offer the complete solution. The trial-and-error process is happening when you try to implement this "image" into reality.
?: World-famous guitarist Carlos Santana said to me, when the "sky" opens and sends you a brainwave one has to grab that special spiritual moment for realising it before the clouds darken all again. What do you think about that?
I agree to what Carlos Santana has said.
?: Does every idea exist immaterially already and just has to be put into effect, i.e. is creativity in its profound purpose basically about transferring dreams into reality?
I believe that ideas get born into one's mind. It is to complex for me to explain how new ideas take place, however, from my experience, it requires "the sky to be open".
INSPIRATION
What inspires you and how do you stimulate this special form of imaginativeness?
I am performing better if I have a "problem to solve". A beautiful challenge is many times the best way to stimulate your imagination.
?: Do calm and relaxation prove the most suitable or does pressure fire up creativity?
If you are too relaxed, you don't think at anything. Pressure is not good also, but an alert start of mind will generate a progress sooner or later. Let's say it is good to have a target, to have a dream, and to work every day for it.
How do you separate the good from the bad and which ideas are worthwhile to be explored further or whether one idea has the potential of being outstanding really?
I have a great team by my side. Once an idea is clear I always present it to my team. They are like a mirror, and I see immediately if the idea is good or bad based on their reaction.
?: What key characteristic does an idea need to be viable i.e. does it have to appeal to you personally or promise commercial potential/fulfil certain needs?
I believe both aesthetical and fulfilling the client's needs are essential for a product to have success on the market. I would even say that the key to success is to be able to offer something that can make the world better for your client.
MY FAVORITE WORK:
The custom-made Bespoke Light Sculpture for a private mansion in Dubai, United Arab Emirates.
I cannot tell to have different inspiration on different projects. 
Each installation is unique, meticulously crafted with an individually and form of its own to fit the client's spaces. Bespoke light sculptures define the core of my work. My philosophy is always the same: I know I have succeeded when my work evokes joy and happiness. But the size and scope of my bespoke light sculptures are different for every client.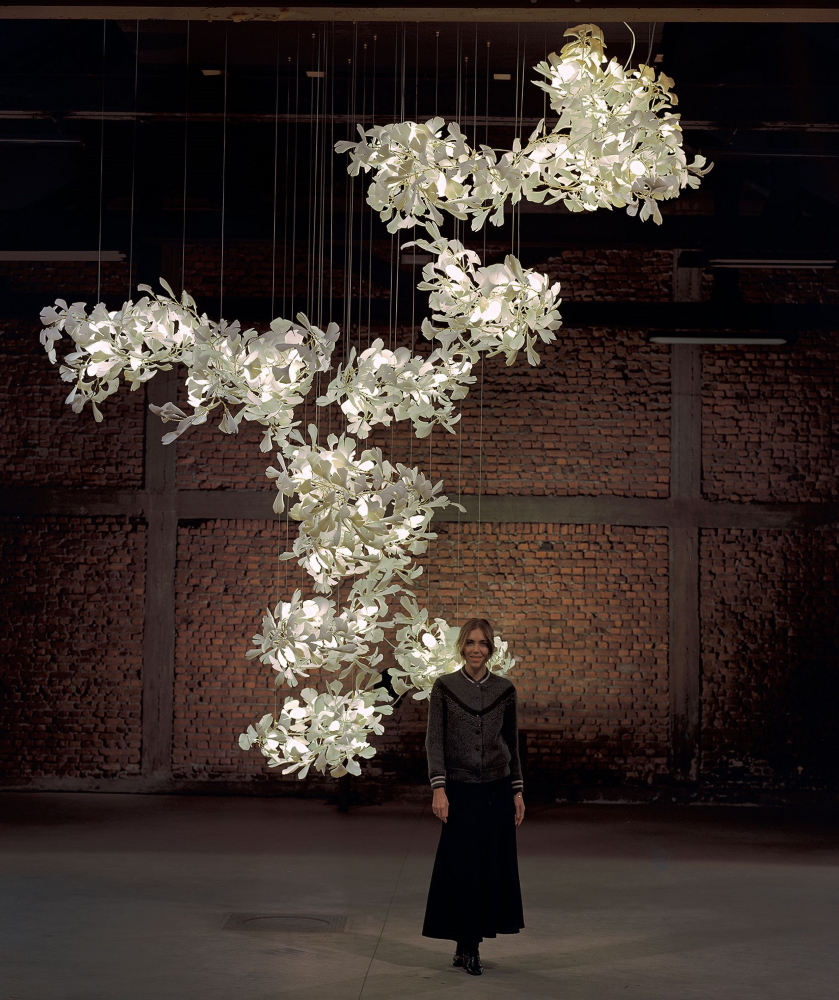 You like(d) what's offered here? Please show your appreciation by donating to one of the recommended charities.
Donate now