Ezequiel Pini
groundbreaking visionary 3D / CGI art director
Argentina / Spain
"Groundbreaking work in the fields of 3D and CGI (computer generated images). The resulting visual language creates wondrous, dreamlike worlds that are used for advertising films on the one hand and for art installations on the other." An adequate description by Austrian design-online-mag form-faktor.at for a wide selection of fantastic/futuristic "refind imagination, poetic compositions, avant-garde mind, and elegant skills" (art-summit.com) with a clean, modern aesthetic signature. They originate in a Spanish-based multi-disciplinary studio led by an Argentinian. "It is", according to the renowned Architectual Digest magazine, "among the 100 best/most important designers and creatives." A honor like this confirms why companies like Apple, Burberry, Cartier, Facebook, Givenchy, Ikea, Microsoft (creation of Windows 11's and Microsoft Surface's wallpapers!), Nike, Rimowa, Samsung, Spotify or Uniqlo rely upon the expertise of these visionary specialists.
Ezequiel Pini
groundbreaking visionary 3D / CGI art director
Argentina / Spain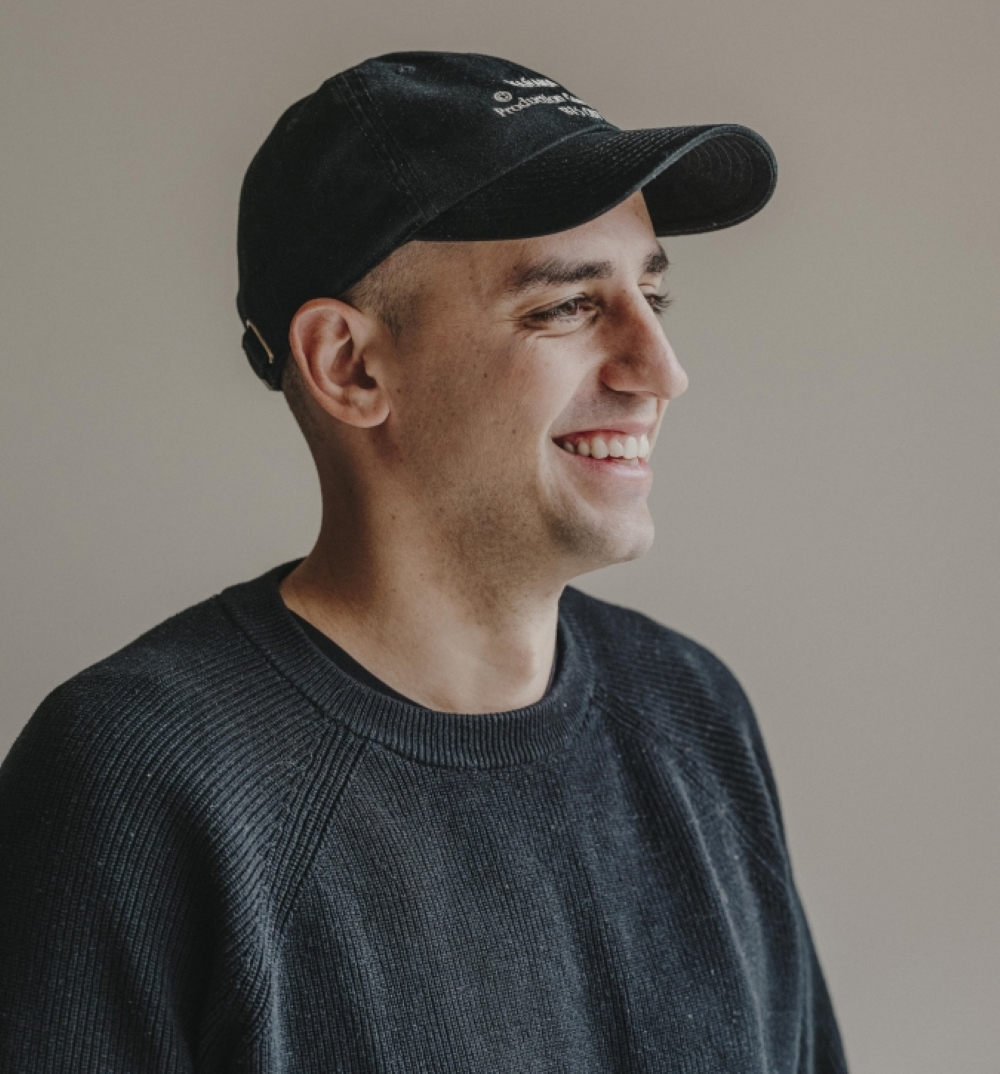 "We create digital images that look real. Some words to describe my style are subtle, soft, conceptual, graphic, pastel and sometimes provocative. The soul of the studio actually lies on the border of art and design", Ezequiel Pini told imagicasa.be. Then the founder and art director of Six N. Five added: "The main idea is to create eye-candy images, to create the WOW effect and confuse the viewer with what is real and what is not."
Prior to exploring high artistic spheres like balancing professionally between realism and surrealism the admirer of René Magritte, Salvador Dali, Man Ray, Jean Arp, Paul Cézanne, Claude Monet and Edward Hopper had to learn how to fly first. Ezequiel Pini (* November 1985, Argentina) attended the University of Buenos Aires in 2003 for studying Graphic Design and graduated in 2012. In parallel the son of a Taekwon-do teacher and a gym-owner had a successful career as an athlete in Taekwon-do too (participated in three World Championships, won the silver medal at the World Cup in Seoul in 2004). He acquired his first permanent employment as Graphic Designer & Jr. Animator at Noblink TV, "a creative consulting firm, experienced in the entertainment industry, specialized in storytelling and business oriented digital products". The time there was followed by a job as Media Designer at the Ministry of Education of the City of Buenos Aires. At 2veinte, "a heavily-awarded design and animation company in his hometown", Ezequiel Pini occupied the position of Lead Designer. After moving to Madrid (Spain) he became Art Director & 3D Artist at Serial Cut, "a creative and art direction studio for advertising and culture, making iconic imagery, animation and extended realities" in projects like Apple, Ikea, Nike or Vodafone. With such a broad professional background and practical experiences on many levels the next career step for the 100 percent digital worker was logical: June 2014 brought the founding of his own company Six N. Five in Buenos Aires (office moved to Barcelona two years later). The firm's name originated in the point of time, when in earlier times Ezequiel Pini's working day ended and he was on his way home for finally being able to pursue his own ideas, projects and art. Whether this creative can close his business these days precisely at 6 pm is very questionable, because the studio is one of today's most recognized digital artists-collection and in high demand constantly!
With his creations Six N. Five wants to form a link between the design and the art worlds. Because of that attitude the company doesn't concentrate solely on commercial work, but also uses his knowledge for a series of extraordinary experiments. 'Pistachio' in 2019 dealt with more public space of a house that is surrounded by capsule rooms. Its green color resprents nature, life and serenity. In 'What If' (2021) the design team wondered about the next steps of humankind and a possible future move. Therefore the topic was split in three parts – 'The Journey', 'The Settlements' and 'The Encounter'. 'The Japanese Garden' in the same year was a surreal and pleasant composition surrounded by green and nature. 'Make Room For Us' (2022) designs through adaptive designs mimic cellular organisms. It proposes an architectural system that interacts with nature in an imaginary ecosystem of cliffs, mountains, and virtual dreamscapes. This exploration is nothing more than a narrative translated into visual concepts that aim to learn and respond to our environment, to make ourselves our home.
Another example of the team's vast ingenuity is 'The Circle', "a meditative animated, calming short film where a brilliant orange orb shape-shifts through time" (thisiscolossal.com). Although simple in shape, the round object "represents care, calm, and attention to achieve its ultimate perfection. We are a circle, without boundaris, beginning or end. Infinity.", Señor Pini says.
The multi-awarded Six N. Five whose work is exhibited in England, Italy, Sweden, Switzerland and the US, doesn't only move around in the virtual space. By presenting the Moco Concept Store for the Moco Museum in Barcelona it's the studio's first virtual concept that was transferred into the real-life. This location was perfect for the visonary crew. The place "brings new ideas to life", so their slogan. As hypebeast.com stated: "the sister branch to the Moco Museum in Amsterdam is a cultural hotspot that frequently showcases the works of Basquiat, Banksy, Keith Haring, Takashi Murakami, along with other renowned contemporary artists."
"I like to take advantage of being able to depict our ideas regardless of the physical world's limits", Ezequiel Pini told chapter.digital. "I believe this is the primary purpose of our work, through a concept or idea, to be able to portray something that looks real but as we interpret, we realize it is not. We like to create images that can produce something for the viewer: a feeling, a smile, even discomfort or pleasure. It is not only portraying a space or idea literally because for me the image has to have something more to it. It is not easy, but sometimes we accomplish it and it feels pretty good when it happens."
Ezequiel Pini, who describes himself as "introverted, spending hours in my own worlds, analyzing, and thinking deeply", is interested in art, photography, architecture, design, and interior design. He lives and works in Barcelona (Spain).
Interview May 2023
Master(s) of computer generated images: dreamlike spaces in clean, modern aesthetic
INTUITION/IMAGINATION
How does intuition present itself to you – in form of a suspicious impression, a spontaneous visualisation or whatever - maybe in dreams?
If I have to choose between these options I would definitely say that it presents itself in a spontaneous visualization. A few times it happened in some dreams that after waking up I just saw things really clear.
I'm someone who lays great emphasis on my intuition and feelings in every step of my life - be it in private or professional activity.
Will any ideas be written down immediately and archived?
If it is very important and I don't want to forget it, I try to write it down or make a quick sketch on the spot - either in my mobile phone notes or on a piece of paper close to me.
?: How do you come up with good or extraordinary ideas?
I could say that in all this time, the best ideas have come from moments when I was quiet and in solitude only with myself. I enjoy going outside, being in contact with nature. Generally I also take the opportunity to do physical activity - go running for a few hours, cycling or swimming. I like those long runs where I am connected with myself and my thoughts.
?: Do you feel that new creative ideas come as a whole or do you get like a little seed of inspiration that evolves into something else and has to be realized by endless trials and errors in form of constant developments up until the final result?
This is a good question. I could say that it comes in both forms. Many times, because I may be unconsciously thinking about something, it suddenly appears as a very clear version that just needs to be executed. I suppose that in this situation my brain was already processing information in those moments where I was not aware of it, or I just was focused on something else. 
On the practical side, they often happen as trials and errors. I like to leave it open for new ideas to happen in this part of the process. Sometimes, in the process of creation itself, something comes along that turns the initial idea into something much more well elaborated, that gives it a stronger meaning that I wouldn't have been able to reach otherwise.
What if there is a deadline, but no intuition? Does the first fuel the latter maybe?
In this case, under the pressure of a deadline, I often go straight to the practical step and don't dedicate much time and space to intuition. Maybe the experience has made me "train" to work under the pressure of a deadline. I can say that this connects more to the trial and error type where I already know how to approach and face some aspects. For me it is just a matter of taking carefully decision making during the process, in order to be as effective as possible. 
INSPIRATION
What inspires you and how do you stimulate this special form of imaginativeness?
I consume a lot of images every day. The result of my work is mostly also about visual inputs. So I try to consume as much as possible in any field related to art and design. I spend hours in my own world, analyzing and thinking deeply, to express myself through visual language.  I find inspiration from everywhere, and I think most of the things we see every day feed our minds. Working with digital tools provides us the significant advantage of combining different worlds and placing them together in ways that would have been impossible to imagine in the physical world.

I also find a strong inspiration in nature as it is related to life. Most of us like to walk in a park, go to a forest, for a mountain hike or enjoy a day on the beach. Going outside recharges my batteries with new ideas and with fresh energy. Doing sports like running, cycling or any sport surrounded by nature is also super important to me.  In the end, my works are more like visual inspirations. I like to create worlds which make someone want to be there. So there it is where I find a very strong connection. 
?: How do you filter between ideas worthwhile pursuing and bad ones that you just let go of?
As humans, we learn and adapt ourselves based on experience. The same happens in the creative process. After so many years with successes and failures in this discipline and career I find that although the essences and values that define me are the same, I have been evolving in my way and process of work inspired by my interests and contexts at each stage of my life. This has undoubtedly been creating and shaping my values, but at the same time helping me to judge better the good from the bad.
Has it to appeal to you primarily or is its commercial potential an essential factor?
I believe this is the basis from the start of Six N. Five on. It is quite a difficult task but eventually I was able to manage it with a lot of hard work and discipline. Commercial projects have conditions and need to meet expectations. Being commissioned by a client means that there will always be someone ensuring that these conditions and expectations are met. This undoubtedly limits the time that I have to create, but whether in commisioned or artistic work: we actually work as if we have no limits! On the other hand, for keeping myself creative I think it is more important to ensure room for creation, exploration, and also solitude. In those times I feel I'm able to process thoughts, ideas, and execute them without precise limits, and enjoying a freedom process in itself. Unless people are coming to me and hire me to produce a commercial product, I work in the fine art field. And so I'm elaborating my own ideas most of the time. Occasionally, somebody will come to me wanting me to produce something as a product for them.
Do you revisit old ideas or check what colleagues/competitors are up to at times?
Yes, I like to check previous ideas. I see them as part of a journey, where over time I have been evolving towards new styles and interests, but at the end they  are still part of me. So I can feel that I am also somehow connected to them by revisiting them. I sometimes find that I can analyze them with a new perspective that is only possible with this evolved version of myself.
CREATIVITY
Which time/place/environment suits your creative work process the best (tranquillity or pressure) and which path do you take from theory/idea to creation?
Having a pleasant and comfortable environment helps me a lot in performing the tasks of the day. I created my own space of isolation and work, where it serves as my studio, but also as a place to connect with other creatives and share time with friends. 
What is better in the realization process: speed and force creativity i.e. grasp the magic of the moment, or a slow, ripening process for implementation/elaboration?
I much prefer the second option - a slow, ripening process for implementation/elaboration.
?: Do you have any specific strategies you use when you are feeling stuck creatively?
Just let it rest, at least for a day. It usually happens when I try to let it rest that I often see a more spontaneous solution on the next day. In that time frame maybe my unconscious was processing a solution. I also try to look around a lot, research, investigate. That is to say: get out of the traditional process of creation, to move on to something else!
How important are self-doubt and criticism (by others) during such a process i.e. is it better to be creative on your own, only trust your own instincts, or in a team? 
For me it is extremely important. The CGI creation process is very demanding as it needs lots of hours of not only seated working but waiting also. It's very technical too. So It's funny because at the same time that you're solving technical issues, changing values, formulas, etc. you also have to keep creative and judge it with creative eyes. This situation often brings us to some moments when the technical predominates over the creative. It is here, when after watching the same creation for so many hours or days, I prefer to ask for opinions, in order to comment or debate. I think to propose this space is essential for the evolution of any piece, but also to get rid of one's creative ego. If I then have to start over just because I have chosen the wrong path, I definitely do it.
Should a creative always remain true to him-/herself including taking risks & going against the flow or must one, for reasons of (commercial) survival, make concessions to the demands of the market, the wishes of clients and the audience's expectations?
Undoubtedly the first option. In my personal case I have always followed my personal preferences, my intuition and my desire to explore and learn. I am very passionate about my practice and what I really like, so I usually go for it. I like to think about them but also to execute them.  In all these years, for me, the commercial side or proposals were just a consequence of this, and that always has to come from that initial state.
?: How is innovation still possible if one has established a distinctive style and, just in case, is it good to be ahead of one's time even one hazards not being understood?
For me it is always possible to innovate. It is the most difficult thing to do, but one can always reinvent oneself. It is very important to have enthusiasm, passion and a certain ambition. Most of my experience comes from the digital field, and this field evolves at a very fast speed. So for me, to keep attentive to new technological and creative advances helped me a lot. It shows me new tools to apply in my ideas if they would be necessary, but also to the find new possibilities that come connected with new ways of representing ideas.  
When does the time come to end the creative process, to be content and set the final result free - or is it work-in-progress with an endless possibility of improvement?
This is the hardest part. I could say that the deadline, which we talked about before, is the one in charge of helping to define a possible end. I am very self-critical and I always believe that there is room for improvement - this could be either a positive or a negative aspect and makes it harder, without a doubt, closing a creative process. That's why I try to control this situation as much as possible. 
?: In case of failure or - worse - a creativity crisis how do you get out of such a hole?
Just trying again. I have a hard time giving up, and I usually start over when it's necessary. In cases as such it is fundamental to have a positive and strong mentality. Staying positive generates confidence, the confidence of knowing that everything will be fine. So I realize that I just have to go back, pick up on an impulse and try again while having understood that the previous negative situation was simply a learning experience.
SUCCESS
?: Should/can one resist the temptation to recycle a 'formula' one's successful with?
If the formula is my own, of course I can. I like to analyze and learn from the formulas or decisions I've applied to certain situations that have worked for me as well as those that haven't worked. I think these understandings make me evolve and to adapt certain decisions to the different moments and contexts. 
When the formula is from someone else, I try to be more careful and cautious, trying to analyze if it applies or can work in my case. 
?: Is it desirable to create the ultimate/timeless work, but doesn't "top of the ladder" bring up the question of "what's next?" i.e. isn't such a personal peak "the end"?
I am very restless, curious and I also like to explore new possibilities all the time. Sometimes I ask myself the "until when?" question, or "what if this is the last?" But in those moments I try to just clear my mind and be grateful. I believe that my happiness and well-being are the ones that always prevail over any decision. I have been like this way throughout my life. Currently I am very happy and fulfilled with just creating and doing what I have always loved. I have a beautiful family - the main source of my happiness. For me both constitute what I consider success. It fills out my whole day. The two could not exist one without the other. At the moment I still manage to balance these two positive sides of my life well. I will continue to do so as long as I maintain the curiosity and happiness aspect in both.
MY FAVORITE WORK:
Related to the previous question, I would say that the creation that best represents my work and makes me feel proud will be the next one. Because thinking about it in this way helps me to have the desire to continue learning, evolving, but above all to keep the passion alive! 
You like(d) what's offered here? Please show your appreciation by donating to one of the recommended charities.
Donate now