John Pasche
art designer (The Rolling Stones' tongue)
GB
"The Rolling Stones' tongue is one of the first examples of a group using branding and it has become arguably the world's most famous rock logo." That quote made by Victoria Broakes, head of exhibitions at London's Victoria and Albert Museum, says it all about the historical value and iconic status of that design, when the V&A bought John Pasche's original artwork in 2008.
John Pasche
art designer (The Rolling Stones' tongue)
GB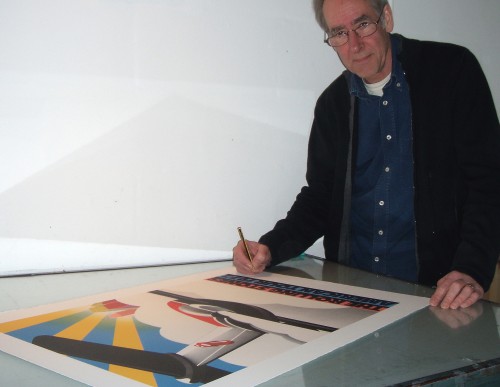 "The greatest band logo of all time" (voted in an online-poll by gigwise.com in August 2008) was created in 1970 by a 25-year old for a payment of £ 250 in total (the copyrights were sold for an additional £ 26.000 in 1984). Prior to this job that turned out to become a career booster, the young man in question had completed his Bachelor of Arts in graphic design from the Brighton College of Art and his Master of Arts at the Royal College of Art in London (in his last year there he produced – for the film 'Judex' - probably the first 3D poster!). Being awarded Best RCA Graphic Design Student, the college recommended John Pasche (* 24 April 1945), when contacted by The Rolling Stones' head office for a European tour poster. The rest is history.
In the years to come John Pasche worked as a freelance designer, became Art Director at the Music Division of United Artists, then Creative Director at Chrysalis Records and later on at South Bank Centre. Besides the legendary logo that "remained on all post-1970 albums and singles by The Rolling Stones, in addition to the band's merchandise and their stage set" (Wikipedia), he designed album-covers for The Stranglers including 'The Raven' (1979), Fischer Z,  Art of Noise and many more as well as the M.C. Escher-inspired band logo for English progressive rock band Van der Graaf Generator.
For his work John Pasche received more than 20 accolades including Award of Excellence (Communication Arts, 1996) and various Design & Art Direction Certificates.
John Pasche lives in the suburban village of Oxshott in South East England's country Surrey.
Interview March 2022
Big bang: stuck-out tongue as a career booster
INTUITION & IMAGINATION
How does intuition present itself – being a gut feeling or a suspicious impression?
John Pasche: I think it feels almost automatic - maybe from the subconscious.
Do you visualise something spontaneously in your mind's eye - maybe in dreams?
I can visualise an image from images or parts of image seen in the past and remembered.
Will any ideas be written down immediately and archived?
I tend to make a quick visual note of any ideas immediately so not forgotten.
What if there is a deadline, but no intuition? Does the first fuel the latter maybe?
I certainly think that deadlines focus the mind which encourages intuition.
Are great ideas based on intuition or by almost endless trials and errors that result in constant developments up until the final result?
Great ideas are a matter of focussing the mind on solving a problem.
World-famous guitarist Carlos Santana said to me, when the "sky" opens and sends you a brainwave one has to grab that special spiritual moment for realising it before the clouds darken all again. What do you think about that?
I think that it is too cloudy in England for that to work for me.
INSPIRATION
What inspires you and how do you stimulate this special form of imaginativeness?
I am inspired by everything around me and try and use the experience to fuel my imagination.
Do calm and relaxation prove the most suitable or does pressure fire up creativity?
Pressure to start up the creative process but a calm mind to finalise the idea.
How do you separate the good from the bad and which ideas are worthwhile to be explored further or whether one idea has the potential of being outstanding really?
I first have to decide that the concept is good and then try different ways of visualising it.
What key characteristic does an idea need to be viable i.e. does it have to appeal to you personally or promise commercial potential/fulfil certain needs?
An idea has to be an answer to a particular problem and also has to appeal to me.
Does inspiration for you reveal itself in a kind of clear and complete vision so that you just have to capture the fantasy in a way that's authentic to your creativity?
Sometimes my inspiration comes as a clear vision of the way I would like to do something but other times I have to give the problem more thought.
How long do you ponder an idea before creatively working on it?
It can be a matter of seconds and other times a matter of weeks.
Do you check what colleagues/competitors are up to/your role models contrive(d)?
No, not really.
CREATIVITY
Which time/place/environment suits your creative work process the best?
I am very much a morning person and now tend to be in a warm comfortable place when I am working. However, when I was younger working in London I remember having some of my best ideas travelling on the underground with a hangover.
Which path do you take from theory/idea to creation i.e. how do you start?
I always start with the concept and then work out the best way to visualise that idea.
How important are self-doubt and criticism (by others) during such a process?
I believe that I have to most importantly please myself by my work.
Is it better to be creative on your own, only trust your own instincts, or in a team?
I have aways felt that I am working on my own even if I am in a team.
Does age/life experience help with creativity or is a younger mind more creative, 'cos it's fresh and untouched by experience? What about social/cultural heritage?
I do believe that a younger mind is likely to be more creative.
What is your personal approach/motivation/concern regarding creative activity? If you'd make a pie-chart: what is your satisfaction based upon - a) self-realisation/ personal compliance, b) artistic recognition or c) commercial success & fame?
a) 70%
b) 15%
c) 15%
How does a creative find his/her own style/possibly unique way of expression?
Through their own particular set of skills as how they can express their ideas.
Is craftmanship important or should creatives be able to work 100% unloaded?
Some form of craftsmanship is necessary to express their ideas.
Can routine, experience and professionalism make up for lack of creativity?
No.
If problems occur during the creativity or one's stuck, how can that be solved?
Work on something else and come back to it.
Are a never give up attitude and persistently hanging on necessities for creatives?
If you have a problem with something, just be honest.
Which is better in the development process: speed and – if that's possible - force creativity i.e. grasp the magic of the moment, or a slow, ripening process when it comes to implementation and elaboration?
You have to be patient and you will know if something is right.
Should a creative always remain true to him-/herself including taking risks & going against the flow or must one, for reasons of (commercial) survival, make concessions to the demands of the market, the wishes of clients and the audience's expectations?
I think that you first have to understand who the audience is that you work is aimed at and that becomes a starting point for your concept.
When does the time come to end the creative process, to be content and set the final result free - or is it work-in-progress with an endless possibility of improvement?
I finish the process when I feel that the work cannot be improved. After time, sometimes I see that the work could be improved.
In case of failure or - worse - a creativity crisis how do you get out of such a hole?
Just be honest and inform the client.
SUCCESS
Why are some people successful and others not - despite the same talents?
I wish I knew.
Should/can one resist the temptation to recycle a 'formula' one's successful with?
Sometimes the client wants you to recycle a style which is understandable.
Is it desirable to create the ultimate/timeless work, but doesn't "top of the ladder" bring up the question of "what's next?" i.e. isn't such a personal peak "the end"?
Your best work sets the benchmark to which you always aim.
My favorite work
I have always liked this ad I did for The Financial Times when I was a junior art director aged 27 working in an advertising agency. I think it illustrates having a clear concept and the way to visualise that idea in the best way. The inspiration of course was just "nature".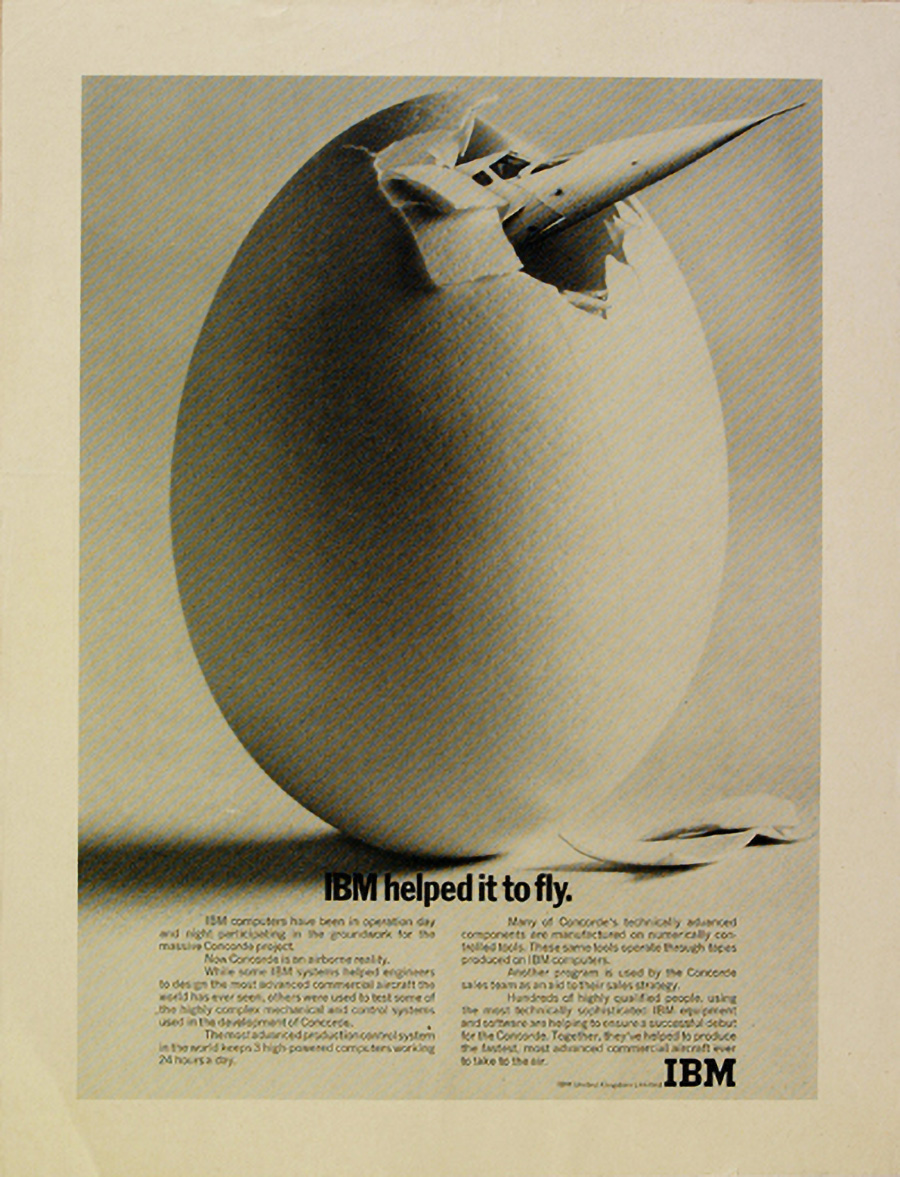 You like(d) what's offered here? Please show your appreciation by donating to one of the recommended charities.
Donate now