Anja Maria Strauss
awarded Natural-Artist
Germany
"This artist captures the beauty of nature for eternity and tells entirely new stories with it." The quote from a short feature about her on arte.tv, an European public service channel dedicated to culture, describes the essence of this extraordinary creative's work very well. The German creates objects and installations from plant elements, for example blossoms, leaves, seed pods or stems. "In doing so, she focuses on the meaning and the beauty of form of individual details, detaches them from their original context, elevates them to artistic material, suspends their transience and grants us viewers a surprisingly new perspective on the familiar", notes galerie-splettstoesser.de correctly. "The extremely precise craftsmanship of the works is decisive for their captivating effect and clear aesthetics."
Anja Maria Strauss
awarded Natural-Artist
Germany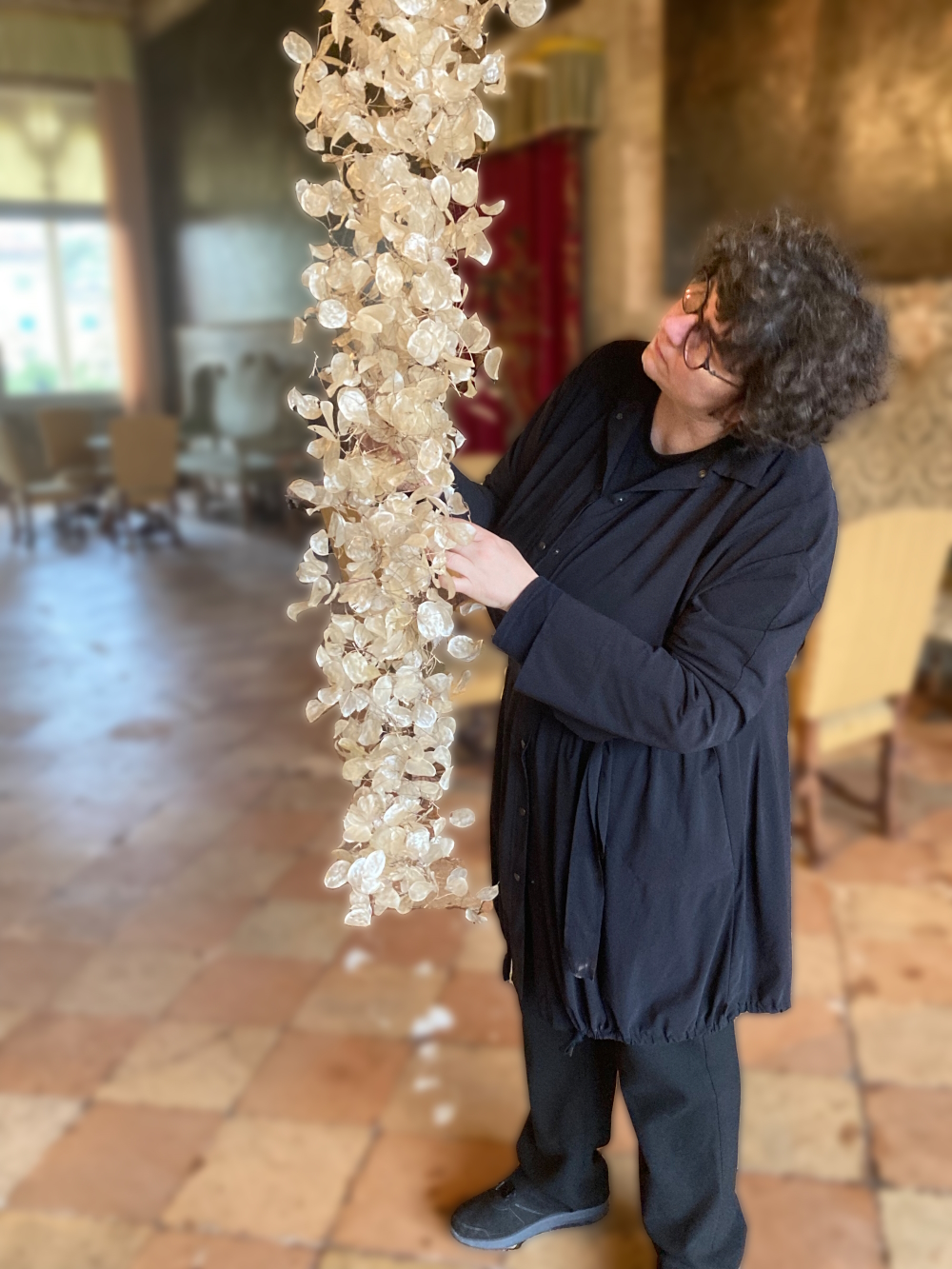 Making timeless art from what is overlooked by the wayside and often even stepped on! That's exactly what Anja Maria Strauss's does. The lady whose German surname means bouquet/bunch in English finds the organic materials for her stylish and often very minimalistic oeuvre during strolls through nature. In her studio she disassembles her finds to the relevant elementary particles which will be in the focus and arranges or combines these accordingly for the result to unfold its own 'poetry'.
The procedure of creating what she classifies as "natural-art" sounds easy on first sight, but isn't in reality because one needs to have the skills and the vision. Mrs. Strauss (* 1973 in Saarlouis) has got both of it. From 1998 to 2000 she visited the State Technical School of Floral Art (part of TUM School of Life Sciences) in Weihenstephan (Bavaria). Three years after her graduation a work stay in London followed and a second one as lectureship/teaching from 2004 to 2007 as well as in 2018 again in Tokyo. The latter seems to have had a major influence as her artworks communicate an obvious Japanese 'plant-art-vibe'. The stays abroad were rounded up by a third one in 2013 and 2015. This time at the Cité Internationale des Arts in Paris.
With a varied education as a solid base Anja Maria Strauss' started to fulfill her overall approach: to put nature in relation to art. For achieving the desired results she takes the natural material out of its familiar environment to place what is already perfect in a new context, without copying it, in order to create an unfamiliar and extraordinarily "new" expression between rhythm and dissolution, harmony and contrast, movement and tranquility, lightness and heaviness. Her final creation makes it possible to experience nature in a new way. The objects and installations invite the viewer to perceive them with all his/hers senses.
"For me nature is great art already", Anja Maria Strauss states on her website and added on arte.tv: "I see my task in giving the plants a new vitality, in order to draw out a different consciousness with this perfection." How that aim is achieved, she explains on her own objekt-natur.de-site: "The visualisation of character traits is shown by highlighting, usually by limiting it to the one thing that is essential at that moment for the statement of the new - the work of art. The overall expression of the work is enhanced by a specially chosen technique that supports the idea. This can lie in neutrality or in clarification. An example here would be concrete as a neutral functional support for the arrangement of the elements. Plexiglas in its transparency to clarify the natural in contrast to the artificial or to make it appear more differentiated and distanced."
"The concentration on only one natural product at a time, as well as the reduction of the natural material to a characteristic detail, have characterised her art ever since", said art historian Dr. Carola Gries at an exhibition opening in 2008. And her colleague Sigrid Blomen-Radermacher agreed with the previous speaker when she said on a similar occasion in the same year: "Art, nature and aesthetics form a network of exciting relationships. There is a lot of transparency in the air. Order, clarity, regularity, sensuality, concentration and time. Perhaps it is through Strauss' installations and sculptures that we are first invited to really recognise the beauty and aesthetics, the regularity and order in the seemingly chaotic of the plant world."
Mrs. Strauss' artworks are largely featured in the catalogue of the 2020 exhibition entitled "natura artis magistra: natural: materials in contemporary art" (132 pages incl. 80 illustrated ones, size: 24 x 29 cm, Wienand-Verlag.de). Her output that has been awarded various times (1. audience award at the art fair in Regensburg/Germany 2015; Grand Prix de la Ville Esch-sur-Alzette/Luxembourg 2016 et al.) is part of private collections, public areas and museums.
Anja Maria Strauss who has received the German art award Kaiser-Lothar-Preis in 2023 lives and works in Neuss as well as Duesseldorf (Germany).
Interview August 2023
Decomposed plants become aesthetic artworks: a new consciouness for nature
INTUITION/IMAGINATION
?: How does intuition present itself to you – in form of a suspicious impression, a spontaneous visualisation or whatever - maybe in dreams?
Enthusiasm for the "one" plant material, observation - looking closely - and empathy, this is how visualisation for the "new" arises and grows.
Experiences can support this, but so can the fading out of them in order to discover the unexpected with as uninitiated a gaze as possible.
The interplay between experience and the newly discovered can also be quite inspiring, because the focus of perception changes, can be influenced, takes a U-turn and allows something else to happen or continues.
?: Will any ideas be written down immediately and archived?
Writing down, recording - not immediately and yet - at first I carry an idea and let it mature within me.
Archiving, a wish, I keep "idea books" and also record concrete thoughts on implementation there, unfortunately not chronologically or sorted by plant species.
... on the positive side, I sometimes surprise myself with earlier thoughts and sometimes they play into my hands for the upcoming project.
?: How do you come up with good or extraordinary ideas?
... by getting involved with nature, dealing with the "personality of the plant" and focusing on a specific feature, on a detail, developing a statement for the work, getting involved with space, place and time. Inspiration from outside - a poem, a dialogue ... may also contribute to this.
?: Do you feel that new creative ideas come as a whole or do you get like a little seed of inspiration that evolves into something else and has to be realized by endless trials and errors in form of constant developments until the final result?
... as experience grows over time, the idea may well already have been born as a final expression. But this does not mean that the path is stringent - the important thing is always to be and remain open to development. Especially in my work, because I work with living beings - every single part, every fruit, every stem, every seed are individuals that I want to give a stage to. These individuals influence the work, set their signs and characteristics, contribute to the result, the final expression as I just described.
The materiality is the decisive factor - I choose, I let happen, I recognise chance or control chance with my choice.
... but of course mistakes always enrich and allow learning, development to happen and, if necessary, lead to something new.
?: What if there is a deadline, but no intuition? Does the first fuel the latter maybe?
Neither of these things will inspire you for the time being.
... then you have to collect yourself, structure yourself, free yourself and get involved. The rest will come. Once the idea is in place, the rest is always manageable and the deadline is an incentive.
It sounds simple now, but it's an emotional rollercoaster.
INSPIRATION
?: What inspires you and how do you stimulate this special form of imaginativeness?
Inspiration through nature - plant life in particular, music, theatre, opera, literature, architecture ...
Stimulation: Language of form, sensual perceptions, development of a sense of space, which way-what touches and moves me-what doesn't, eye for details, interplay, rhythm, graphic aspects, influencing opposites, discovering fields of tension, colour plays, proportions.
?: How do you filter between ideas that are worthwhile pursuing and bad ones that you just let go of?
... sometimes it helps to sleep on it, sometimes it takes longer - in any case, it's the view from the outside.
?: Does an idea need to appeal to you primarily or is its commercial potential an essential factor?
The idea must fundamentally appeal to me for my work, express my attitude. The work must then convince, seduce. Commerce cannot be the goal for artistic action.
?: Do you revisit old ideas or check what colleagues or competitors are up to at times?
... Counter question: what is an old idea? Some ideas have to mature first and therefore need time. I basically go through the world with an alert and open mind. Of course I am concerned with what my colleagues are doing; I like to be in exchange, I like to be in dialogue - that's where I can grow, that's where my work can grow. Personally, I don't have any competitors, but of course I don't know how I'm seen.
CREATIVITY
?: What time or environment best suits your creative work process — for example, a time and place of tranquility or of pressure? Which path do you take from theory or idea to creation?
Love what you do - so you have no daytime. The thinking process begins in the morning in bed; the rest is the day/night form. I detest the pressure of work, but I prefer a place of peace.
... in the attempt. The working process begins with the idea in the head, which starts to mature there, in the process the first attempts are made to find the right technique for the expression, then a kind of prototype for proportions etc. and then the actual realisation.
?: What's better in the realization process — for example, speed and forcing creativity by grasping the magic of the moment or a slow, ripening process for implementation and elaboration?
The magic of the moment reinforces the idea and the desired goal or is already subject to empirical values that then precede the maturing process.
Some statements require a certain "speed", others need or even demand the process.
... but every speed is preceded by an incredible amount of experience.
?: How important are self-doubt and criticism by others during such a process?
Self-doubt is important, it is the only way to grow. Self-doubt is challenging, although enduring it is hard and leads to one's own limits, shows limits, but ultimately allows me to grow beyond them.
Criticism from others during a process is very different. Sometimes it's beneficial, sometimes it's helpful, sometimes it's too anticipatory. It also depends very much on who the criticism is coming from. Being in the process requires trust in oneself and also in one's environment - waiting can be helpful, as can encouraging criticism for one's own reflection.
?: Is it better to be creative on your own, to trust only your own instincts, or to work in a team?
Working alone shows a clear line without compromise, and allows for the new if openness resonates. Working in a team, if it goes well, provides expanded thought-provoking impulses, triggers unexpected processes - the team must fit together, be able to work with each other, trust each other so that the opening of the personality can develop, so that a dialogue, an exchange can take place.
?: In case of a creative block or, worse, a real failure, how do you get out of such a hole?
I have to allow the fall and live through it in the truest sense. Encouraging people and making them aware of what they have already done and successfully achieved gradually dissolves the low.
It takes time and in the end it also creates new action.
?: Should a creative person always stay true to him- or herself, including taking risks and going against the flow, or must the person, for reasons of commercial survival, make concessions to the demands of the market, the wishes of clients and the audience's expectations?
He/she should remain true to him-/herself without standing still, without stiffening or petrifying himself - the signature should be recognisable and yet always reinvent itself.
Responding to clients is a challenge and for commissioned work it is important and not reprehensible. I assume that this comes into play when the client already appreciates the style, the direction; so it is not a bending, not a concession, but a suggestion.
The audience should always be surprised by one's own work.
?: How are innovation and improvement possible if you've established a distinctive style? Is it good to be ahead of your time, even if you hazard not being understood?
... small steps, small steps, small steps.
... to be ahead of one's time is to develop one's own work.
?: When does the time come to end the creative process, to be content and set the final result free? Or is it always a work-in-progress, with an endless possibility of improvement?
... Beware of too much, how quickly a job is over. Being satisfied is a good feeling, but I don't think you can rest on your laurels.
It's a very difficult undertaking - time will tell if the work will stand or if it has to be continued.
?: Do you have a clue why your creations are exactly the way they are?
Passion that is always rekindled.
In love with details - curiosity to find them, to discover them.
Consistency and radicality in limiting oneself to one materia.l
... selected techniques that support thi.s
Plants speak their own language - I highlight them.
SUCCESS
?: "Success is the ability to go from one failure to another with no loss of enthusiasm." Do you agree with Winston Churchill's quote?
I could agree with that, but not as the sole and only way of success.
To stay with failure: "He who regards failure only as a small diversions never loses sight of his goal", is an appropriate quote that's attributed to Martin Luther.
Recognition and encouragement are balm, i.e. successes for the soul.
It all begins with the first step - starting with passion, DOING - growing unswervingly from it, always continuing and not resting on successes/partial successes.
The famous American architect Frank Lloyd Wright got to the heart of it all by saying: "The price of success is dedication, hard work and unrelenting commitment to what you want to achieve."
?: Should or can you resist the temptation to recycle a 'formula' you're successful with?
... unless this hasn't sparked me off myself - yes.
On my path, for example, there is a kind of object that I like to repeat in the technique because it still inspires and touches me and I find this timeless and yet it imagines itself innovatively.
?: Is it desirable to create an ultimate or timeless work? Doesn't "top of the ladder" bring up the question, "What's next?" — that is, isn't such a personal peak "the end"?
... having created a timeless work does not mean the end for me.
On the contrary - the next step is always worth striving for - even if everything has its time and everything else needs its time.
MY FAVORITE WORK:
'Mights resembling falling Stars'
The German writer and language artist Frank Schablewski reacted poetically on this artwork with the following Haiku:
and with aim and end
mights resembling falling stars
here endlessness now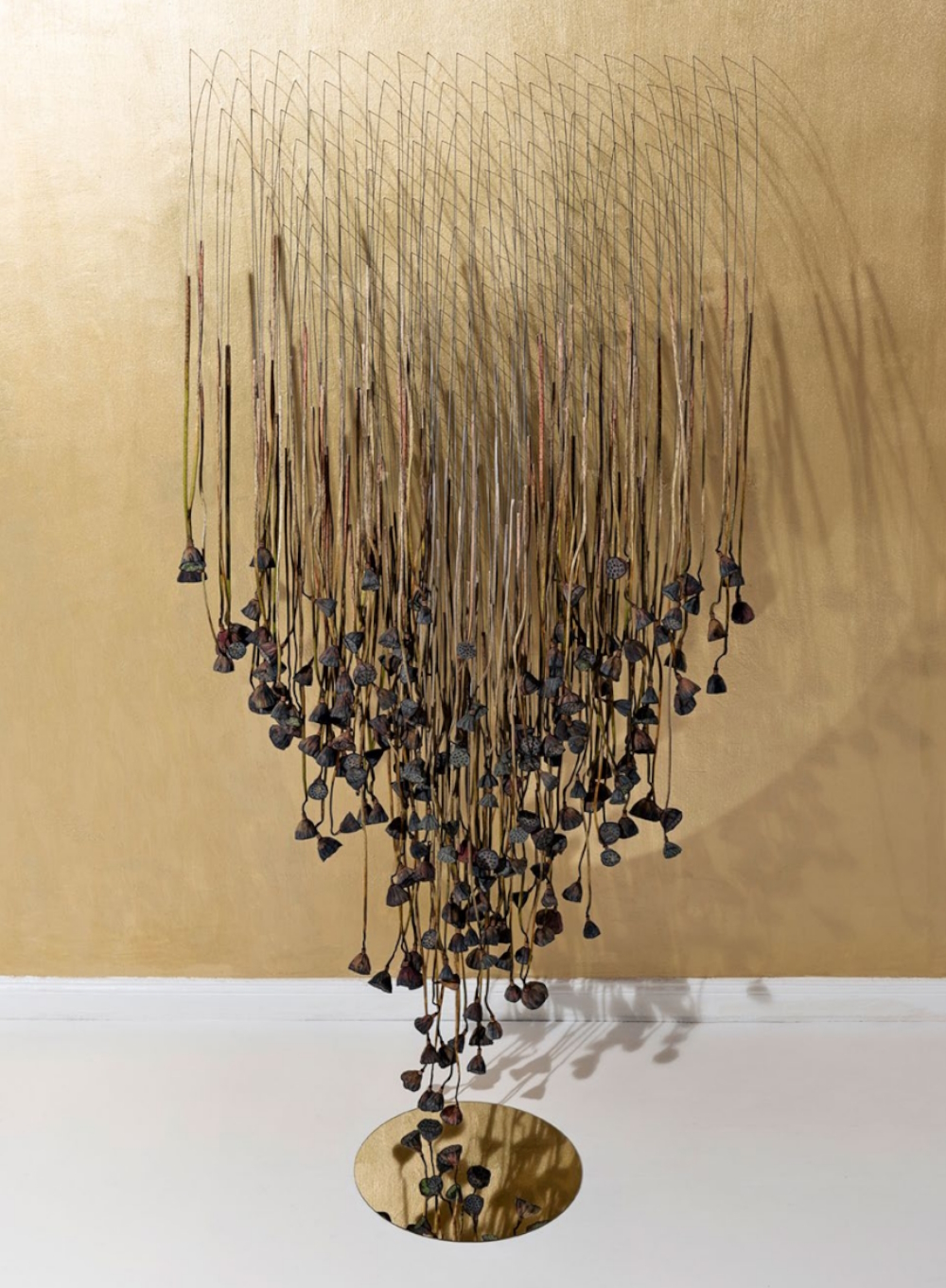 You like(d) what's offered here? Please show your appreciation by donating to one of the recommended charities.
Donate now