Anouk Wipprecht
FashionTech designer / engineer / educator / public speaker
The Netherlands / US
How would our future wardrobe look as we continue to embed technology into what we wear? How can we interface in new ways with the world around us through our clothing? How will we socialize when we are supervised by technology? Questions like these are at the center of this visionary thought leader's explorations. As a FashionTech designer she researches and develops technological couture. These prototypes have systems around the body that tend towards artificial intelligence, projected as 'host' systems on the human body, enabling her garments to move, breath, and react to the environment around them. Therefore the native Dutch partners with software producer Autodesk, internet giants Google and Microsoft, multinational technology company INTEL, crystal creator Swarowski, car brand Audi and others like leading 3D printing innovators. This visionary creative is way ahead of her time and "reminds one", to quote artofmagazine.com, "of pioneers like Tesla, Jules Verne or Leonardo da Vinci."
Anouk Wipprecht
FashionTech designer / engineer / educator / public speaker
The Netherlands / US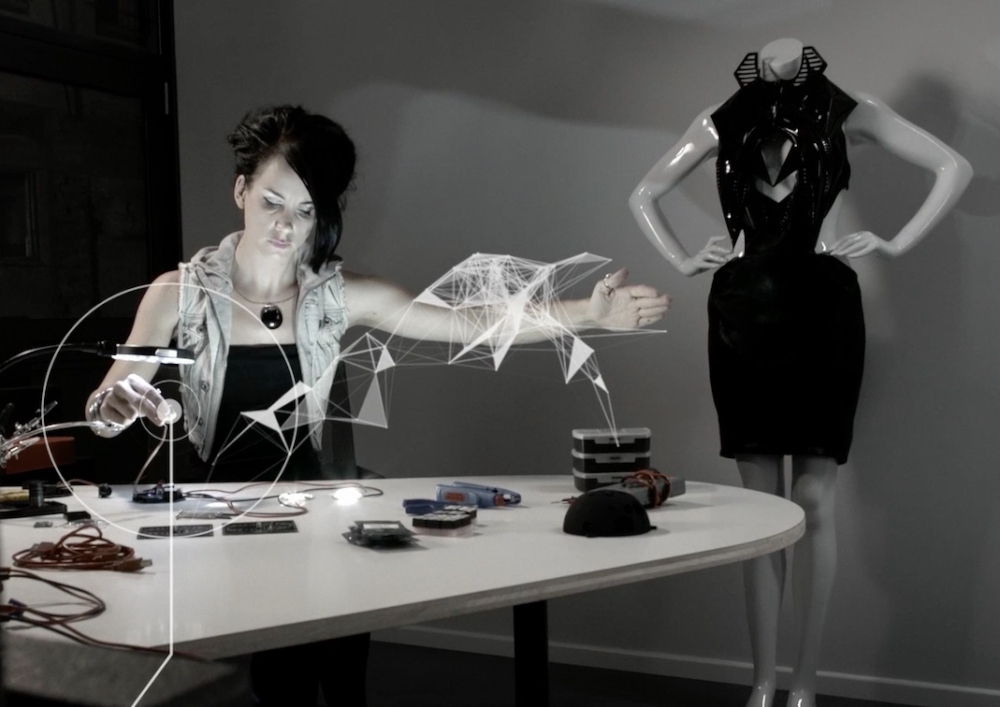 The field of activity of Anouk Wipprecht (* 18 January 1985 in Beemster, The Netherlands) comprises not of one or two but ten positions: fashiontech design/couture, interaction design + user experience = ux design, engineering/system development, microcontrollers & sensors, wearable electronics, robotics & mechanics, artificial intelligence, machine learning, emotional design and product design. Before venturing into these territories the female that was interested in computers and robots from an early age already attained the necessary knowledge. "I studied fashion design in the Netherlands for ten years - starting when I was 14", Mrs. Wipprecht told vice.com. "The last four years of my studies I spent being involved with electronics and technology. In 2007, I decided to move to Sweden to study interaction design and took the course 'Body, Fashion & Technology' at Malmö University in Sweden. This is when I started working with micro-controllers like the Arduino, coupled with sensors and motors, to do the things I wanted fabrics and jewelry to do." Such a wide background proved to be very solid not only for founding her own design studio in October 2007 but even more.
The impressive amount of research findings and innovations by this progressive thinker is presented perfectly by a quick roundup of her work in just an exemplary roundabout ten year span.
Singer Fergie (former Black Eyed Peas/"I Gotta Feeling") wore a Anouk Wipprecht & Bea Akerlund collaboration-outfit (the football inspired chestpiece was embedded with Swarovski crystals and high power LEDs in between; the Wipprecht/René van den Berg designed shoes had embedded optic fiber) at the halftime show of the Super Bowl on 6 February 2011 (111 million viewers worldwide!). In May of the same year the young designer was Artist-in-Residence at the lab of V2, the interdisciplinary center for art and technology in Rotterdam/The Netherlands. Her aim was to create illusions around the body. So she developed Pseudomorphs - tech-couture pieces which are transforming into fluid displays. A few months later (in cooperation with Studio Roosegaarde) the Intimacy 2.0 dress was presented. It turns transparent when the wearer is aroused. Tactically placed thin leather strips are embedded with electronic PDLC foils and sensors around the bust area. As the wearer's heart rate and temperature goes up, the e-foils change color and transform into clear plastic.
Worth mentioning too: The exhibition 'TECHNOSENSUAL: where technology meets fashion' at Museum's Quartier in Vienna 2012 was curated by her. It presented "garments that combine fashion and technology while expanding the possibilities of contemporary fashion design. These smart textiles are equipped with electronic components such as sensors and LEDs or are made out of innovative and futuristic materials" (mqw.at/en).
In September 2013 Anouk Wipprecht unveiled a very unique 3D printed outfit at the Volkswagen booth during the International Motor Show (IAA) in Frankfurt/Germany: a sensoric 3D printed Smoke Dress as part of an 8-piece collection inspired by the Volkswagen cars.
In mid-2015 she showed her animatronic fashion collection at Berlin's Fashion Week. The cooperation with Audi included a Projection Map Dress based on Audi's Virtual Cockpit, two shields with embedded Audi sensors [Ultrasonic RangeFinders] and a main dress based on Audi's LED Matrix lights - which emit 60W of high power LED. The collection is 3D printed in SLS and interactive.
Another perfect example of Wipprecht's technological couture featuring microcontrollers is her INTEL-Edison based Spider Dress. This robotic dress attacks when you come too close!
2016 at the 'Ars Electronica' in Linz/Austria she dealt with the question 'How can design and new technology be used to improve mental health therapy?' Anouk Wipprecht's answer: 3D-printed headsets, which take the form of unicorn horns, and are designed for children with ADHD (attention deficit hyperactivity disorder). Electrodes within the headsets measure activity in the brain, triggering a built-in camera that starts filming when the wearer's attention level spikes.
In August 2017 the creative was chosen as resident for 14 weeks at TED Conferences, the incubator for breakthrough ideas, in New York City.
In November 2018 Mrs. Wipprecht worked for Rolls Royce's Black Badge Campaign - design of prosthetic leg with Tesla coil and electricity effect for bionic Latvian-born British singer-songwriter, performance artist, creative director, and model Viktoria Modesta with accompanying black bodice - 3D printed and from carbon fiber with Rolls Royce's Black Badge car elements featured in outfit.
Her ongoing work for the Cirque du Soleil Entertainment Group started in September 2013 with creations of stage-pieces for The Light (nightclub in Las Vegas) and robotic cocktail dresses for robotic-allies serving shots in the restaurant Heart Ibiza (Spain). 2019 saw the release of The Tentacle Dress with robotic tentacles working on facial recognition. Further interesting inventions were introduced in 2020: Anouk Wipprecht showcased two robotic cocktail and robotic perfume designs, based on SAP Qualtrics survey.
No doubt: much more spectacular inventions can be expected from Anouk Wipprecht in the future still!
The lady splits her time in three parts: one-third for commissioned work, another one for research and development of own projects and the final one-third for lectures, workshops and educational purposes. How it is possible to keep up such pace, she revealed in the interview on vice.com short and sweet: "Being busy 24/7 and not having a social life does the trick. I just love what I do and people dig it, so why stop?"
Anouk Wipprecht lives in New York, but travels frequently between San Francisco, Los Angeles, New York City, and Miami.
Interview September 2023
Tomorrow today: rethinking fashion in the age of digitalisation
INTUITION/IMAGINATION
?: How does intuition present itself to you – in form of a suspicious impression, a spontaneous visualisation or whatever - maybe in dreams?
I get a lot of inspiration from both the mechanical sides and also from nature. I combine them.
It can be just fascination of an interaction that you can see happening and that's going to be human to human, or this can be animal to an animal. Then I'm always playing in my mind like, "oh, that's interesting. What if we merge that together? Make hybrids of it." That is something that most of my designs come from, like "what if a dress has the behavior of a cat, but the aesthetic of a spider and is hosted on the body and it's like the spider dress? What if a defense system of a certain animal is there? What would it be if you would wear it?" Those questions I always ask myself when I'm designing. That goes into that process. It's not necessarily from dreaming.
?: Will any ideas be written down immediately and archived?
Mostly I write them down and sketch them out. Sometimes I use the computer, sometimes I have a little tiny sketchbook with me, like a pen. I'm just making a little note because sometimes you have a lot of ideas and if you're not remembering, it's always good to have a pointer that you can remember. You're just busy and then you have that time and it comes again to you and you're like, "oh yes, you open your book and then you can pick from that."
?: How do you come up with good or extraordinary ideas?
You're not designing like, oh, this is going to be the design. Mostly you're just designing something and then you're going to feel with the audience maybe, or with a wearer like, this is what I want to design. A successful design is mostly based on the end result and then the demoing or the testing and the feedback. Feedback I think is really important in that. Then you can say, "okay, is this it, or will I engineer a little bit further?" Then you have your final design. You never really design with the mindset of like, "oh, this is going to be that." Because that always comes afterward. Sometimes I'm designing things and I'm like, "oh, this is really great." Then in the end, when it all comes together it always presents itself after the fact.
?: Do you feel that new creative ideas come as a whole or do you get like a little seed of inspiration that evolves into something else and has to be realized by endless trials and errors in form of constant developments until the final result?
Trial and error. Exactly. I like that. I think a lot of it is research and engineering, design, 3D modeling, coding. Machine learning and everything need to come together. When you make a recipe like a cake, you can also not endlessly put things in it. A good cake is based on just a few things. You also need to limit that and break that all down into the final form. I think that's really important.
?: What if there is a deadline, but no intuition? Does the first fuel the latter maybe?
I think a deadline is good because it pushes an artist to not procrastinate in their ideas. To really confine it and be like, "okay, this is when it's ready." Sometimes an artwork is never ready because you can always repaint, remodel something, or put another motor in something. I think that lines are really important for artists like working towards them.
INSPIRATION
?: What inspires you and how do you stimulate this special form of imaginativeness?
Inspiration comes from a lot of things. Everything that we create basically is inspired by nature. Especially within biomimicry, looking at the behaviors of animals. Behaviors are really interesting. Especially when you talk about robotics. Because we always model robots after humans. What if the robot is modeled after the animal but counterfeit with the human again? Those things are very interesting, the hybridism.
?: How do you filter between ideas that are worthwhile pursuing and bad ones that you just let go of?
Even if you have a bad idea, you sometimes put it in a little archive storage because it's still an idea that you have. It's still a thing that plays in your mind because otherwise, it would not be interesting for you. I think even a bad idea is an idea and it should be treasured as well because maybe there is a moment that you want to use that. I think every idea is worth investigating.
?: Does an idea need to appeal to you primarily or is its commercial potential an essential factor?
I think as an artist you are less looking at the commercial use. You more look at the provocation, emotion, something that can make a statement about personal space or whatever topic. It seems like you need to work with it.
?: Do you revisit old ideas or check what colleagues or competitors are up to at times?
I'm less worried about competitors because my field is very collaborative. We try to collaborate open-source and be a little bit more like that. I do revise some of my ideas because my designs are based on motors' electronic components. In a dress that I made 20 years ago, I might use linear actuators right now instead of servomotors or whatever. I always try to update my designs. That's why Spider Dress 1, Spider Dress 2.0. The Smoke Dress has seven different designs and seven different smoke systems. I'm always trying to revive. It's like almost children growing up into their final form. Then you go further when electronics and technology basically grow.
CREATIVITY
?: What time or environment best suits your creative work process — for example, a time and place of tranquility or of pressure? Which path do you take from theory or idea to creation?
Creation is definitely better when it's calm, but sometimes you need the boss. Because you also don't want to be too isolated. You have a tranquil period and then you have the presentation things again and it really goes in flows. I think both need to be respected. Sometimes it's the neutral and the chaos and the tranquility. They all need to flow together. Otherwise, the chaos creates inspiration. Then you need the content to actually code and work and be busy with just bringing it to life. They go hand in hand.
?: What's better in the realization process — for example, speed and forcing creativity by grasping the magic of the moment or a slow, ripening process for implementation and elaboration?
I think that art sometimes is more intuitive to grasp in a moment, but in engineering, you need a long time to create it and all of that stuff. Again, they go hand in hand in that way.
?: How important are self-doubt and criticism by others during such a process?
If you're too critical of yourself, then you're not making any progress. You need to give it with a little bit of salt or sugar. You should not be too extreme. If you're too perfectionistic about your work, you don't allow creativity to come there. Creativity needs to flow as well. You need to play with that. The design needs to be good, stable, and all of that stuff. You also need to let that creative part in, because otherwise, of course, it gets things like procrastination. This is never good. Those are not things that an artist wants to work with. We want to work with inspiration and other things like that.
?: Is it better to be creative on your own, to trust only your own instincts, or to work in a team?
I like to do both. I like to do a project that I collaborate on, which can be brands, companies, or fellows like designers, engineers, or architects. I did a few projects with architects. It's a creative technologist. Mostly when I do that, then on the next project I want to do it by myself alone. Again, the other thing is that it depends if you're on a deadline. Some of my projects are built in six weeks. I did an Audi collection and I had eight weeks in total. The last design was still slightly from the spring and slightly wet because it was secure for three days. When we did the show, they sometimes didn't give you enough time. Then it's good to do collaborations. That's a more practical thing.
You collaborate and I think that's really pretty. Other times you're like, oh, I just want to be by myself. I have this idea, I have the electronics and I just want to put it together. I think both are just really valuable. I would never want to be a part of a studio. Some artist studios are not even in touch with the artwork anymore because they have 30 people working in that studio. For me that's just really difficult. Because for me it's not on the money, it's about the expression, the research, and all of that stuff. I want to be really close to the design and the creation. If you have too much collaboration and all of that, then the artist goes further and further away and that's not always healthy. You become a factory inside of an artist's studio.
?: In case of a creative block or, worse, a real failure, how do you get out of such a hole?
Go into nature. Sometimes you can focus on another project. Sometimes you are designing a thing, especially when you work with electronics, it's not possible because the electronics cannot get it's small enough or whatever. Sometimes I go to another project. I like to sometimes do two projects at the same time. It's like the horse race. If I cannot focus on that, then I focus on that one. By that, once you do it, your heart is free and you're like, "oh, actually I should not be seeing it from here, I should see it from there!" Working on multiple projects at the same time, that's sometimes pretty valuable.
?: Should a creative person always stay true to him- or herself, including taking risks and going against the flow, or must the person, for reasons of commercial survival, make concessions to the demands of the market, the wishes of clients and the audience's expectations?
Especially if you're working with brands and companies - I work with many companies - you always need to give a little bit up yourself. I always say: you have your own DNA as an artist and you have to the identity of the company. You cannot fully work on the identity of the company. What do I get out of this? If you only do your own stuff, what does the company get out of it? If you are doing successful projects, you need to combine your DNA with the identity of the company and then see where that goes. If it's a company that is not aligned with your values like I had people in the tobacco industry. They want to do a project around the Smoke Dress. But I'm not supporting that, or the military or guns, or certain topics like the pharmaceutical industry, for example. Those are not my values. But if there are other brands that I do see that fit, then I'm that's okay.
If you want to do something, especially if it's around more females in education, creating really cool designs, robotics and they want to do that as well, then that's great. You never need to sell your soul, if you're an artist working with a company! But you do need to have a click! Because if you don't have a click, then you're just like, "oh, why am I making this design for a tobacco factory?" That's not what you want as an artist.
?: How are innovation and improvement possible if you've established a distinctive style? Is it good to be ahead of your time, even if you hazard not being understood?
I've been always pushing out really weird ideas just for myself and at one point people really like that. Also when I work with students, I always say, "where is your heart?2 Follow your heart and then other people will join you at one point! If you have an idea, it's something special because it's something that you've not seen and it's something that we're missing as designers. There's something in us that we want to solve if you're a designer. If you're a cook, you want to make a pretty dish that nobody has ever done before. If you're a painter, you want to make the creative in a perfect paint. There's always something that is pulling on you as a designer or as an architect or whatever you are as a creator. That is something that you want to have.
?: When does the time come to end the creative process, to be content and set the final result free? Or is it always a work-in-progress, with an endless possibility of improvement?
Set the deadline. Yes. I think that's about the deadline. You are setting either a deadline or deadlines for yourself. The mock-up should be ready. This is when a prototype should be ready. This is when we want to go into testing, in my case, and all of that.
?: Do you have a clue why your creations are exactly the way they are?
No. I like technology, around the body. And I get inspiration from other artists - for example, H.R. Giger that I love. The exoskeleton design or Dali surrealism - everything that is weird in regards to art and different organic. That is something that I'm very attracted to. I think artists inspire each other and that's also a cool thing.
SUCCESS
?: "Success is the ability to go from one failure to another with no loss of enthusiasm." Do you agree with Winston Churchill's quote?
I think so, yes.
?: Should or can you resist the temptation to recycle a 'formula' you're successful with?
It is my process - from idea to sketch, mock-up, prototype, engineering, finishing, testing, demoing, and then the final. Whatever doesn't work, you go back to revisit that cycle. The prototype didn't give the thing that you wanted to, then go back to the mockup. That process is just something that I also try to teach the students because you have a lot of disciplines. You have the discipline of design, fashion design, architecture, engineering, and robotic machine learning. There are a lot of things involved in that. To teach your students is like teaching them the basics of electronics and architecture. That's the knowledge that I have because I studied it. I work with this and it's my fascination. Process and taking the students on a journey, that's always something that is really a big integral part of why my designs are there. I think the process and curiosities. I think my designs are also very curious.
?: Is it desirable to create an ultimate or timeless work? Doesn't "top of the ladder" bring up the question, "What's next?" — that is, isn't such a personal peak "the end"?
People always ask me in interviews "what is next?". I don't really work on my next design being in the next scene. I make the design and then it's like "is there something else out?"
I guess success comes from a commitment to a lot of factors. The more complex the designs, the more people tend to like them, but the less wearable they become. Because a Spider Dress is not something like, "Hey, here's my dress, have fun." Other dresses of mine can be a little bit more like that. It's not necessarily always about making a bang, for me. It's about personal research. Which reactions do my dresses trigger in different cultures? What would the audience interaction be? For getting answers to questions like these I need an audience. I think this or that is going to happen, but it's never going to happen like that. My Spider Dress, for example, travels with me around America. It measures the intimate space, personal, social, and public space around. People are coming into those spaces and the dress is reacting differently. In America, it reacts differently than in Amsterdam, because in the Netherlands, people come really close very fast and the dress is always in a reactive state.
In every culture that I come to, the dress reacts differently because of the sensors and the things that I programmed. It's not always something that I know. That is part of my bigger research. As a data researcher, the more data points you have, the more you can show these pieces to the world and the more feedback you get to the system. I always have a lot of different researchers. Not any design is really, in particular, the best because they're all a family. They're all researching something else, but they're all researching the thing that I have in my mind that I want to prove outright.
MY FAVORITE WORK:
My recent project, the Screen Dress. It allows to connect the brain to fashion. Working on brain data here is really interesting, because these projects have the input-output setting.
It uses a BCI (brain-computer interface). It has four sensors in the back. When it goes in a meditative state the pupils grow smaller; in case things are more chaotic, they go bigger. It's between one and 100 percent, it fluctuates. You can really see that when we put the BCI on people that are doing gaming. You can see a really big behavior in the workloads, for example. Beyond that, I also want to show the amount of stress that we put on our bodies. We sometimes don't know and don't even recognize that. This is a problem we currently have because we have a lot of people who are mentally getting worse and worse. The mental health system is really overworked. All my therapy friends have so many clients, they cannot take it anymore. They're like, listen to music, calm down, be mindful. We as humans just get so overstimulated.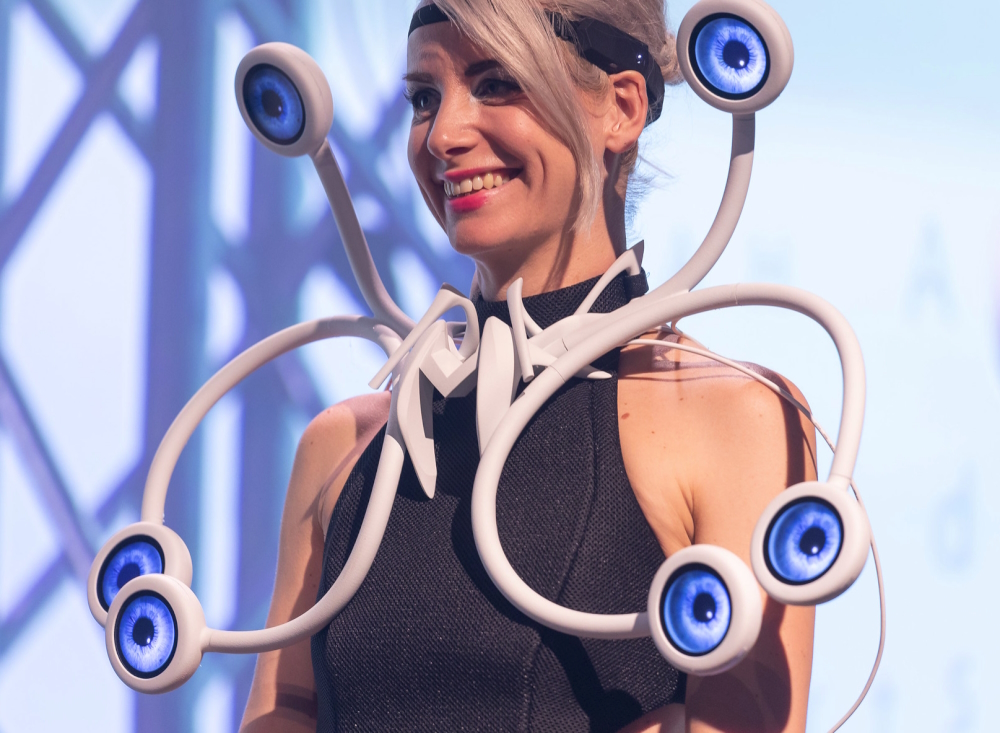 You like(d) what's offered here? Please show your appreciation by donating to one of the recommended charities.
Donate now