Nois7 / Robert Jahns
Surreal-Digital-Art-photographer
Germany / Malta
Five penguins crossing East 41st street in snowy New York – one after the other like The Beatles on the famous "Abbey Road"-cover. An elephant tied to a bundle of colorful helium balloons floating above The Big Apple. A whale swimming through Canal Grande in Venice. These are stunning visual worlds - extraordinary and captivating as well as highly original. They surprise the viewer with the unexpected in a brilliant real-like look, even though everybods knows that such scenarios or perspectives are actually impossible – beyond dreams or fantasies. The imaginative artworks are created by a German with an ambition for perfection in craftsmanship. So this inquisitive autodidact became one of the world's leading modern Digital Artists, Photographers and Creative Directors. With over 1.7 million followers in 2023 on his pseudonym's account by the name of Nois7 he's noted as one of the world's 50 Best Instagram photographers to follow – an international multi-awarded success reached by the combination of constant creativity and a masterfully approach to clever photo manipulation.
Nois7 / Robert Jahns
Surreal-Digital-Art-photographer
Germany / Malta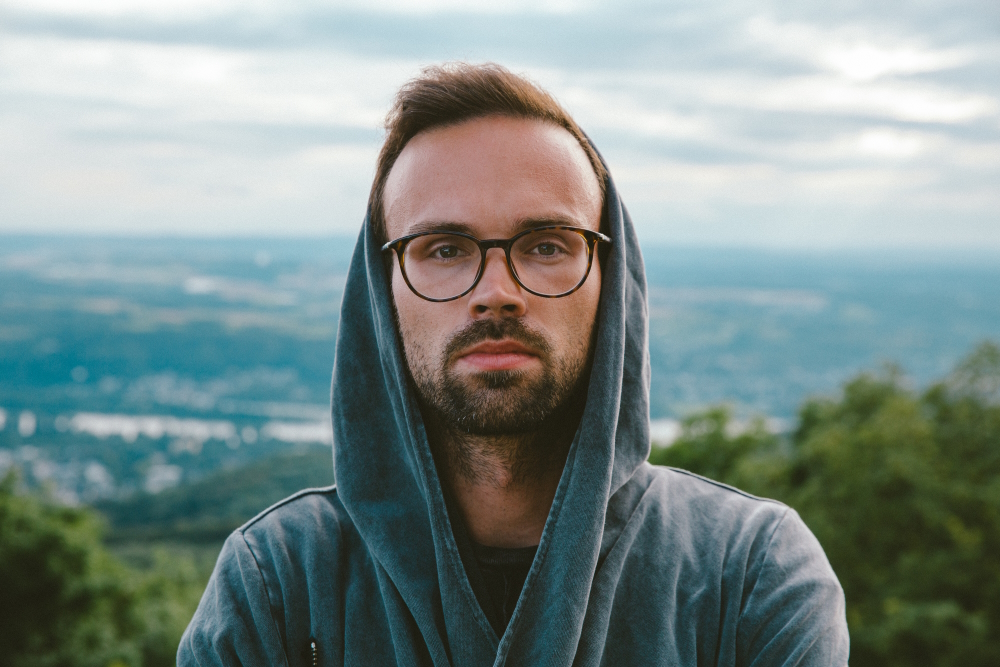 "An image has to tell a story", Robert Jahns explains on mymodernmet.com. And that this statement is his personal credo also he emphasized in an interview with designboom.com: "I always tell a story with my artworks." For doing so the self-employed lone fighter creates "a whole new world of imagery", states popwebdesign.net. "He captures people, animals, and nature in his photographs, and then twists them. He manipulates the reality to make magic. The surreal photo manipulations that he does are simply – breathtaking."
Everything started for Robert Jahns (* 15 September 1987 in Rheda, North-Rhine Westfalia, Germany) when his father presented the then 15-year-old a new camera. It opened another way of artistic expression for him, who "played piano and guitar in a band, learned how to paint on canvas and loved to write" (instagramers.com). The first photo that the teenager took was of a flower in the garden. "Creating art always was and is my passion. With my unique art, I'm able to show the world the visuals I have in mind," the trained media designer told boredpanda.com. For transferring the pictures from the in- to the outside, it was obvious getting into image editing early on – thanks to the raster graphics editors Photoshop and Lightroom.
Robert Jahns' creativity reached a new level as soon as he owned an iPhone and discovered apps like ArtStudio, Filterstorm, Snapseed or VSCO. It took him three years up until a personal style was found. The young artist posted his first image on Instagram on January, 28th, 2012, although his account was still set private back then. After seeing other photographers getting a lot of feedback, it was opened and the newcomer "wowed social media-savvy art enthusiasts with his stunning surreal photographs of locations around the globe" (dailymail.co.uk).
In 2015 Robert Jahns travelled the world in 100 days and brought back 450 gigabyte of photos that stocked up the pile of his massive archive. The huge image-bank is essential for realizing such "carefully crafted compositions" (mymodernmet.com) that come to life by blending single shots in to one piece finally.
"I constantly get new ideas", the lover of surreal art told phlearn.com. "I'm sitting at the computer, I'm looking through images and see such which I think are interesting. And I always think, "What if?" This question opens everything up for me." He's working on 200 different artworks at the same time. It takes between two hours or several days to complete one! How is it even possible to keep one's driving force going with this high number of work processes running in parallel? "I try to push my creativity and it's my personal challenge because I see so many photographers who put out the same photos every time. It's their style, which is okay, but there's no unique concept to it." Robert Jahns has found his by the artist's name Nois7. Nowadys he mainly uses a Canon camera plus Canon lenses and creates his artworks on the screen with the aid of Photoshop as his favourite.
The man that popwebdesign.net calls "a master of illusions" has received numerous awards and was ranked number 1 worldwide in the Art-section of Instagram's "Top 100 Photographers in the web". His surreal works of art – some are available as custom prints in various formats through his website – are exhibited internationally. 2018 saw the publication of his 144 pages strong illustrated book "World of Dreams – A story in pictures".
No wonder that global companies like adidas, Asus, Cadillac, hp, Huawei, Mercedes-Benz, Nike, Sony or The Ritz-Carlton assure the exceptional talents of the former art director in an advertising agency. All that caused a buzz in the media too. Publications from Business Insider (UK) to Hürriyet (Turkey), The Huffington Post and Wired (US) featured this creative. 
Despite all that and having worked with top model Tyra Banks Mr. Jahns' basic approach to this work remains the old one still: "I want to inspire people to dream big", the lover of books and music told phlearn.com, "to think outside the box, and to live… to have a positive outlook on life."
Robert Jahns lives and works on Malta/Republic of Malta.
Interview February 2023
Just an illusion: mental imaginations become photorealistic pictures
INTUITION/IMAGINATION
How does intuition present itself to you – in form of a suspicious impression, a spontaneous visualisation or whatever - maybe in dreams?
I get inspired by nature a lot. When I travel - in real life or through images - I feel most inspired. I rarely dream, maybe because I am a day dreamer.
Will any ideas be written down immediately and archived?
Sometimes I write down my ideas, but most of the time I'm able to directly create the pieces.
?: How do you come up with good or extraordinary ideas?
Whenever I create something out of my heart and it touches me emotionally, I know it is something special. Most of the time this happens in the process of creation.
?: Do you feel that new creative ideas come as a whole or do you get like a little seed of inspiration that evolves into something else and has to be realized by endless trials and errors in form of constant developments up until the final result?
For my art it is all about the story and colours. There is a general idea for the concept, but the biggest part of my creation process is to find matching colours and elements that give me a specific feeling. Because when I feel something through my art, I'm sure somebody else can feel the same.
What if there is a deadline, but no intuition? Does the first fuel the latter maybe?
I only do jobs where I have ideas prior to closing the deal. I know what ideas work out and which not.
INSPIRATION
What inspires you and how do you stimulate this special form of imaginativeness?
Nature always inspires me. The way I feel is a big factor and what impacts my art also. Going out for a run next to the ocean always is fantastic. Obviously, if I could travel all day, it would be best for my imagination.
?: How do you filter between ideas worthwhile pursuing and bad ones that you just let go of?
This is within the concept. Sometimes I have ideas that I know won't work in my style or for my audience. Sometimes I have an idea where I think it will be good, but it turns out that it's not really special enough.
Has it to appeal to you primarily or is its commercial potential an essential factor?
To me both is important. I am aware that it should only be for me but in the end it is my business and I feel the need to it for my audience as well.
Do you revisit old ideas or check what colleagues/competitors are up to at times?
I have around 300 artworks that are not finished yet, all ideas that I have worked on. I often work on several artworks simultaneously, because sometimes I feel artwork A more than artwork B, so I would work on artwork A. I don't really check on my colleagues what they do art wise, more business wise.
CREATIVITY
Which time/place/environment suits your creative work process the best (tranquillity or pressure) and which path do you take from theory/idea to creation?
I have worked anywhere in the world - on the beach of the Maldives, in the airplane, at 5000 meters above sea level, under pressure and with no deadlines. Sometimes I have fun working under pressure, but only for a few days.
If I have an idea, I start with the creation, look into images, elements and start the process. Often there is not much time between having the idea and the finished artwork.
What is better in the realization process: speed and force creativity i.e. grasp the magic of the moment, or a slow, ripening process for implementation/elaboration?
For me a quick finish of the artwork is best. I am a perfectionist and often that comes in my way of finishing a piece. I often say to myself: "Is this artwork ready now? Can it be better? Should I try one more different element?" That way it often takes longer than I wish or I leave some artworks unfinished and will touch them again on a later stage.
?: Do you have any specific strategies you use when you are feeling stuck creatively?
Luckily I never feel uncreative.
How important are self-doubt and criticism (by others) during such a process i.e. is it better to be creative on your own, only trust your own instincts, or in a team? 
I trust my own instincts, but always show my wife the new artworks. She's always the one seeing my art first and her feedback means everything to me.
Should a creative always remain true to him-/herself including taking risks & going against the flow or must one, for reasons of (commercial) survival, make concessions to the demands of the market, the wishes of clients and the audience's expectations?
I believe, when creatives stay true to themselves the rest will follow. I get booked by clients, because they love my art and what I create for them is what I really love.
How is innovation still possible if one has established a distinctive style and, just in case, is it good to be ahead of one's time even one hazards not being understood?
I always try to bring my art to the next level. I know that if you experiment with new things and are open minded you can always improve your craft. I am working on my new project called STELLALUNA, which is a 360 degrees interactive art experience, that will change the way people can view art. Imagine an art piece on your wall that you can touch and interact with. You decide how you want to view the piece and every day you can view it differently. This is the future.
When does the time come to end the creative process, to be content and set the final result free - or is it work-in-progress with an endless possibility of improvement?
When I'm working on a new piece and I start to realize that it almost is finished, I just fine- tune it until I am fully happy. In the end it is often about details that probably most people would not even see. But for me that matters. Once I have decided that a piece is finished, it is finished. I never touch it again.  
?: In case of failure or - worse - a creativity crisis how do you get out of such a hole?
Luckily I never experienced that, so I don't know yet.
SUCCESS
Should/can one resist the temptation to recycle a 'formula' one's successful with?
Once I know something I do is successful, I do my best to keep it that way or make it even more successful. I have several businesses, where I test many things, but when something works, I stick to it.
Is it desirable to create the ultimate/timeless work, but doesn't "top of the ladder" bring up the question of "what's next?" i.e. isn't such a personal peak "the end"?
Goals in life are most important for me. I always dream big. So I often ask myself "what is next?" as soon as I have reached a new goal. I think that's always the case with people who are entrepreneurs or self-employed. There is always the next big thing waiting for you.
MY FAVORITE WORK:
NYC Balloons: I just love the story about this piece and the final artwork always puts a smile on my face. Here is the story: I have been to New York often and whenever I walked on the streets I realized that the people were walking like they had blind folders on. They were so focussed that they forgot everything around them, which I believe is not nice. I thought about what would happen if I gifted them a colourful balloon. Most of them would probably start to smile and feel a moment of joy and ease. Each balloon in this artwork stands for a smile.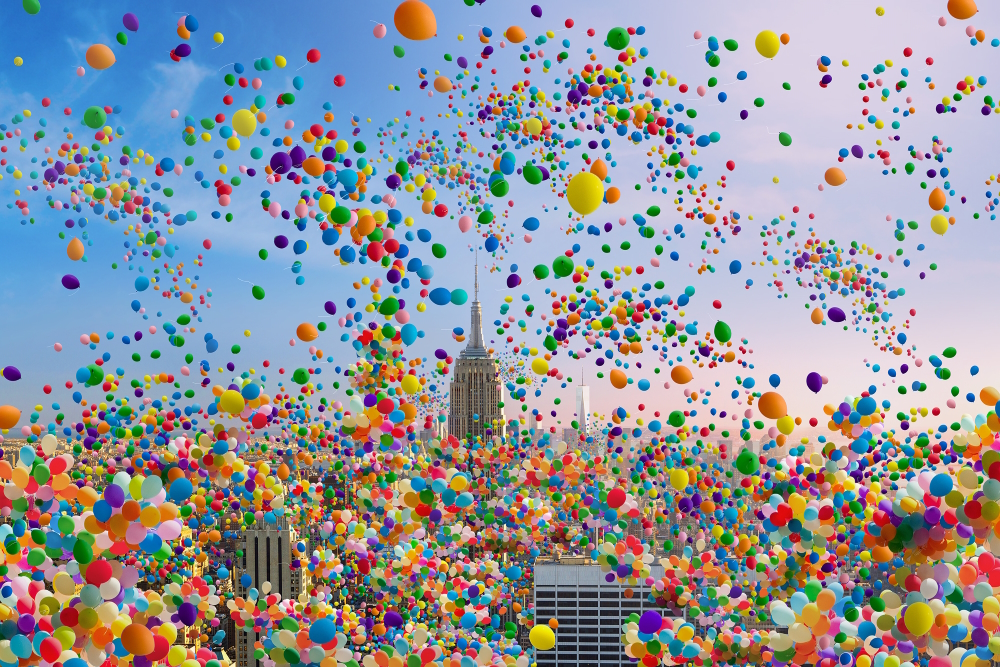 You like(d) what's offered here? Please show your appreciation by donating to one of the recommended charities.
Donate now